Peru overtakes Colombia as world's top coca leaf grower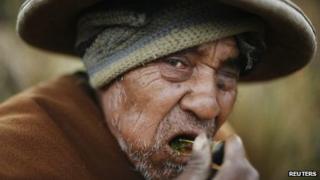 Peru has become the world's main grower of coca leaves- the raw ingredient for cocaine - despite a small drop in the area under cultivation.
According to a report by the UN Office on Drugs and Crime, coca plantations in Peru covered 60,400 hectares last year.
The previous top producer was Colombia, where crop eradication programmes have been successful.
It's not clear how much of the leaf output is used for the legal production of teas and medicaments.
But Peru remains one the world's top three producers of cocaine, alongside Colombia and Bolivia.
The area cultivated with coca is now 20% larger than that of Colombia.
In a report released last month, UNDOC said that the area of land planted with coca in Colombia was down by 25% from the previous year.
There was a decrease in the area cultivated also in Bolivia.
Shining Path
Peru has its own eradication programme, and the efforts of the government of Ollanta Humala to deal with the problem have been praised by the UN.
"There has been an important breaking point with a 3.4% reduction, coming after seven years of continuing increases in those crops," said Flavio Mirella, the UNDOC head in Peru.
The report is based on satellite images and field surveys. It shows that 13 areas across the country were involved in growing coca.
The largest areas under cultivation are Cusco, Ayacucho, in the southern Andes, and Huanuco, in central Peru.
"The government eradicated over 14,230 hectares of coca crop in Alto Huallaga and Aguaytia. These areas, together with the Apurimac-Ene and Mantaro River Valley (known as VRAEM), are strongly associated with drug trafficking and terrorism," said the UNDOC report.
"Nevertheless, the arrest of Artemio [a key leader of the left-wing rebel group Shining Path] has facilitated the involvement of farming communities in alternative development programmes."