Brazil gang in huge tablet robbery at Sao Paulo airport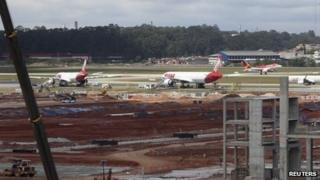 An armed gang in Brazil has stolen tablets and notebook computers worth an estimated $800,000 (£500,000) from the cargo terminal at Sao Paulo airport.
Police say the robbery was carried out by a group of 10 men, who stormed the building after overpowering security guards and taking two of them hostage.
The whole operation took just over half an hour. No arrests have been made.
Security is a major concern for next year's World Cup. The opening match will be played in Sao Paulo.
Brazilian police said the gang arrived at Sao Paulo's Guarulhos airport on Sunday night in a lorry. Some of the gunmen had fake security guards uniform.
Two of the guards were kept hostage in a security booth while the other six were made to load the cargo onto the truck.
A preliminary assessment has found out that 59 boxes with imported items - most of them loaded with tablets - have been taken by the gang.
A number of computer notebooks and electronic cameras were also stolen.
The cargo belonged to various individuals and companies, who were waiting for clearance from the authorities to have the goods imported.
The airport, on the outskirts of Sao Paulo, is the busiest in Brazil. It is currently undergoing major renovation work ahead of next year's World Cup.