Brazil's Marina Silva and Socialists eye 2014 elections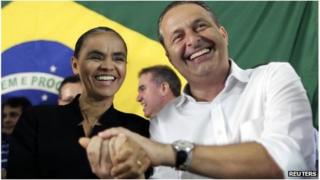 In a major political realignment in Brazil, the former senator and Environment Minister Marina Silva has joined the Brazilian Socialist Party.
The popular environmentalist joined the Socialists after failing to officially register her new party.
The Socialist Party is headed by the state governor of Pernambuco and presidential hopeful Eduardo Campos, who also boasts high approval ratings.
Brazilians will choose a successor to President Dilma Rousseff in a year.
While Mr Campos is expected to be the Socialist Party's presidential candidate, Ms Silva's role in the ticket is not yet clear.
Ms Silva's announcement came after more than a day of intense negotiations.
Her Sustainability Network was 50,000 signatures short of the 492,000 required by Brazilian law to be officially registered.
Late on Thursday, Brazil's Supreme Electoral Court rejected an appeal to consider about 100,000 signatures that had been considered invalid.
As the country's legislation requires potential candidates to be affiliated to a party one year before running for an election, Ms Silva had to join a party until Saturday in order to keep her presidential hopes alive.
'Clandestine party'
At an event in the capital, Brasilia, Ms Silva and her closest allies of the Sustainability Network joined the Socialist Party.
The former Amazon activist joked that hers was the "first clandestine party founded in democracy".
"This is a historic re-alignment, burying once and for all the old republic," Ms Silva said.
The president of Socialist Party, which counts former Brazil striker and current federal deputy Romario among its ranks, also said the alliance was "historic".
Mr Campos, whose government of the north-eastern state of Pernambuco has one of the country's highest approval ratings, also said the move broke a "false polarisation" in Brazilian politics.
"Those who understood what happened on the streets in June [during Brazil's massive protests], won't find it hard to understand what is happening here," he told a crowd in Brasilia.
Ms Silva came third with nearly 20m votes in her 2010 presidential bid. Recent opinion polls show her trailing only President Rousseff, while Mr Campos has about 4% support.
Political analysts are divided as to what impact the alliance could have, with some arguing it will create a more united opposition front, threatening Ms Rousseff's re-election plans, while others say it could actually disappoint potential Marina Silva voters.
Ms Silva served as an environment minister for five years, before stepping down in 2008, citing disagreements with the government.
Since her surprising success in 2010 as the Brazilian Green Party's presidential candidate, she has seen her political influence grow, even though she left the party a year later.