Hurricane Raymond strengthens near Mexican coast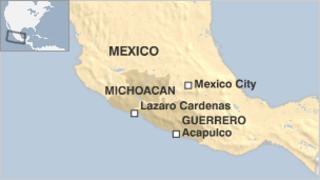 Hurricane Raymond has strengthened off Mexico's Pacific coast, meteorologists in Mexico say.
The National Water Commission (Conagua) said Raymond had been upgraded to a category three hurricane.
It is feared it could hit the same area of Guerrero state that was devastated by Tropical Storm Manuel last month.
With sustained winds of 195km/h (120mph) Raymond is the first category three hurricane to approach Mexico this year, Conagua meteorologists said.
Coastal towns and cities from the beach resort in Acapulco to Lazaro Cardenas in Michoacan state have been put on alert as heavy rains are expected to lash the area for some 72 hours.
Slow drift
Residents have been warned to stay away from rivers and streams as flash floods are likely.
Schools in the area have been ordered to remain closed and the authorities in Michoacan said all maritime activity and road travel should be avoided.
Mexico is still struggling to recover from two deadly storm which hit the country almost simultaneously last month.
Storms Ingrid and Manuel left more than 150 people dead and caused billions of dollars of damage.
Officials fear another storm could cause considerable damage as dozens of dams in the region are still over capacity.
They warned people living in low-lying areas or along hillsides prone to mudslides to move to safer ground.
The storm, which is some 200km south-southeast of the town of Zihuatanejo, is currently drifting northward, according to the US National Hurricane Center.