Q&A: Argentina mid-term elections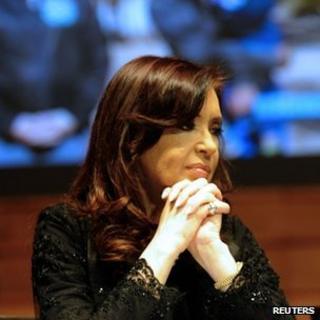 Voters in Argentina go to the polls on 27 October in a key test for left-leaning President Cristina Fernandez de Kirchner.
These important mid-term elections could give pointers to who might succeed President Fernandez when she ends her second period in office in 2015.
Economic woes have taken their toll on support for her Front for Victory party.
The president herself is out of action during the campaign following emergency brain surgery earlier in October.
What is at stake?
The mid-term legislative elections are seen as the first step towards presidential polls in 2015. President Fernandez has never publicly confirmed she would like to seek a third term, though there have been public suggestions she might.
Currently, the constitution limits the number of consecutive presidential terms to two, and a two-thirds majority in both houses of parliament would be needed to amend it.
Should Ms Fernandez's Front for Victory (FPV) fare badly in the October polls, this may signal a coming end to more than a decade of Kirchner family rule in Argentina. Cristina Fernandez de Kirchner's late husband Nestor ran the country between 2003 and 2007, when he was succeeded as president by his wife. She was then elected for a second term in 2011.
What is the system?
Argentina's parliament, the National Congress, consists of two chambers: the Chamber of Deputies or lower house, and the Senate or upper house.
Members of the country's legislature are elected through proportional representation on party lists.
The October mid-term elections will choose 127 members of the 257-strong Chamber of Deputies and a third of the Senate's 72 members. Deputies will be elected for four years, and senators for six-year terms.
Argentines will be voting for lists selected in primaries held in August, where parties and alliances had to overcome a 1.5% threshold.
Voting is compulsory for Argentine citizens aged between 18 and 70. This is the first election where 16- and 17-year-olds can cast their votes, voluntarily.
Who is running in the polls?
A large number of electoral alliances are fielding candidates. These alliances often include parties from diverse ends of the political spectrum, and their composition can vary from province to province.
The key race is expected in the country's largest electoral district, the province of Buenos Aires, which includes the Greater Buenos Aires metropolitan area of more than 10 million inhabitants. The province accounts for more than a third of the national electorate.
The frontrunner there is the Renewal Front, an alliance that includes the centre-right Republican Proposal (PRO). Its list for the Chamber of Deputies is headed by the mayor of Tigre, Sergio Massa.
Mr Massa is a former ally of Nestor Kirchner, and served as the Cabinet of Ministers chief under President Fernandez in 2008-09. Mr Massa was elected mayor on the Kirchnerist Front for Victory ticket, but left the party in June 2013 to establish the Renewal Front. Mr Massa's alliance came first in the provincial primary held on 11 August.
Mr Massa is widely seen as a potential candidate for president in 2015.
Ms Fernandez's ruling Front for Victory is Mr Massa's main rival here. The FPV's list for Buenos Aires province is headed by Martin Insaurralde, mayor of Lomas de Zamora.
What's the impact of the president's health issues?
Ms Fernandez has been forced out of electioneering after undergoing surgery to remove a blood clot from her brain, believed to be a complication from a head injury she sustained in August.
Doctors released her from hospital on 13 October but ordered her to halt her congressional election campaign and rest for one month.
This was not her first health scare. In 2012, she had a thyroid gland removed after being misdiagnosed with cancer.
Sympathy for Ms Fernandez following her husband's death in 2010 is likely to have played a part in her re-election the following year. But recent opinion polls show that sympathy for the president's health is unlikely to affect her popularity ratings.
What else has affected the campaign?
The global economic downturn has taken a toll on Argentina's economy, and the government's austerity measures have done nothing to bolster its popularity.
The congressional election campaign is taking place against a background of foreign currency shortages, falling consumer and investor confidence and dissatisfaction with import restrictions, export duties and tight government controls on the economy.
Independent economists say inflation in Argentina is among the highest in the world at about 25%, which is more than double the official rate.
Who is likely to come out on top?
The August primaries indicated that Ms Fernandez may struggle to keep control of the National Congress, let alone build up a two-thirds majority.
Her Front for Victory won just 26% of the nationwide vote in the primaries, losing in the all-important Buenos Aires province to Mr Massa's list.
This level of performance is far below the 54% support that propelled Ms Fernandez into a second term in 2011. It may also not be enough for her to keep control of the country's legislature.
A recent poll shows Mr Massa's supporters leading over Martin Insaurralde's list, 40% to 33%, in Buenos Aires province.
But the ruling Front for Victory's chances are helped by the fact that most of the opposition's seats in parliament are up for renewal in the October elections.
Its own contested seats are also thought to be relatively safe. In the last election in 2009, the party managed to cling to them despite a sharp dip in the government's popularity over a rise in export duties on farming products.
BBC Monitoring reports and analyses news from TV, radio, web and print media around the world. For more reports from BBC Monitoring, click here. You can follow BBC Monitoring on Twitter and Facebook.