Argentina: End of the Kirchner era?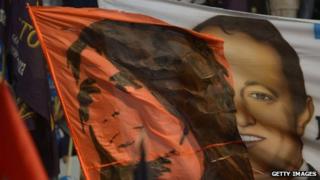 The governing party's poor showing in Sunday's mid-term election in Argentina was the biggest blow for President Cristina Fernandez de Kirchner in years.
Her party, the left-wing Front for Victory, remains the main political force nationally with 32% of the vote and will keep its majority in Congress.
But it suffered a landslide defeat in Buenos Aires, Argentina's most populous province, where her former ally-turned-rival Sergio Massa emerged as the new political star.
Her party also lost in other key provinces, such as Santa Fe, Cordoba and Mendoza.
In search of an heir
Ms Fernandez is still recovering from surgery to remove a blood clot from her brain and was not able to take part in the campaign.
On medical orders to rest for a month, she had to follow the results from home, rather than from her party's headquarters.
Some analysts think her absence from the Front for Victory nerve centre may be an omen of things to come for the remainder of her time in office.
The stage was full of party bigwigs, governors, senators, deputies - but none of them as charismatic as the woman who has occupied the presidential residence for more than 10 years.
Cristina Fernandez, whose late husband Nestor Kirchner served as president from 2003 to 2007, is in her second term as president.
Under Argentina's constitution, she is barred from running for a third and will have to step down in 2015.
And with no clear heir to Kirchnerism - the political movement named after her late husband and herself - some see these polls as the beginning of the end of the Kirchner era.
Economic woes
Political analyst Julia Pomares thinks it is definitely "a new stage" in Argentine politics.
"It would be really hard to have Kirchnerism without a Kirchner as president," the analyst with the Cippec think tank says.
Ms Pomares says that even if the president found someone to "rescue Kirchnerism" it would be hard for that person to shrug off some of the less popular legacies of Ms Fernandez's government, such as foreign exchange controls and rising prices.
According to Ms Pomares, Argentina's high inflation and the new economic climate were "decisive" in the party's poor mid-term results.
Many Argentines complain that it is getting harder for them to make ends meet, despite government moves to raise salaries and help working families through social programmes.
According to official data, the annual inflation rate is currently 7%, but many doubt that figure and unofficial data measured by independent economists suggests it may be closer to 25%.
"It's a disaster," says Norma, who is doing her shopping in the Palermo neighbourhood of Buenos Aires.
A fierce opponent of the president's policies, she says that not long ago "I could fill three shopping carts with 1,000 pesos, but now with the same money I can only afford one".
Another shopper, a housewife who is also called Norma, says she supports the government. But her budget is equally stretched.
"Of course we can feel the inflation: meat, fruit and vegetables are so expensive right now, you need to find alternatives."
Dissent
Politicians like centre-right Sergio Massa now appeal to middle-class families who feel disillusioned with the government's handling of the economy. He draws inspiration from the nationalist policies of former president Juan Peron.
Mr Massa is a former ally of President Cristina Fernandez and her late husband. He even served as Ms Fernandez's cabinet chief before defecting and setting up his own Renewal Front party.
After his convincing victory in Buenos Aires province on Sunday, he is expected to be one of the main opposition contenders for the 2015 presidential election.
Mr Massa's campaign focused on demanding radical changes to combat inflation and insecurity, while keeping some of President Fernandez's most popular policies, such as welfare programmes.
But Abraham Gak of the University of Buenos Aires is not convinced by Mr Massa's approach.
"The opposition's answer to [Argentina's] problems is reducing public spending, lowering subsidies … in other words, policies that go in favour of lower salaries and against quality of life," he says.
Rise from defeat
Mr Gak says he thinks the government's election defeat in Buenos Aires province will not prompt any radical changes in its policy in the short run.
"I don't think we'll witness very profound changes in the government after the elections [on Sunday], because we are not facing as a critical situation as some say," he adds.
If two years is a long time in politics, it is an eternity in Argentine's fickle politic landscape.
Once before, in 2009, President Fernandez suffered a painful defeat in mid-term elections.
Two years later, she was not only re-elected, but got the highest percentage of votes since the return of democracy to Argentina.
With Mr Massa and other opposition leaders getting ready for a long presidential race, many Kirchnerites still hope Ms Fernandez can repeat that 2009 turnaround.
The rest will be on the lookout for new allies to help secure their political survival.