Colombia Santos seeks vice-president for re-election bid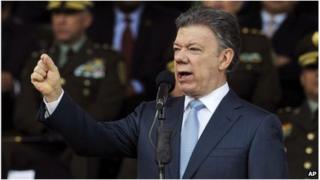 Colombia's President, Juan Manuel Santos, is looking for a vice-president to complete his re-election bid.
On Wednesday, Mr Santos announced his intention to run again for the office he has been holding since 2010.
But Vice-President Angelino Garzon says he will not be part of the president's ticket in the 2014 elections.
President Santos said he wanted to finish what he had started. One of his main goals has been the ongoing peace talks with the rebel group Farc.
After nearly a year of negotiations, the government and the left-wing militant group have agreed on two issues of a six-point agenda.
Speaking on national television on Wednesday, Mr Santos said he had a duty to see the process through.
'Duty as Colombian'
"My obligation as a Colombian is not to let us lose all we have achieved in our peace efforts. Peace is, without a doubt, the most important asset for every nation," he said.
But the main opposition presidential candidate, Oscar Ivan Zuluaga, said the president has already made too many concessions to the rebels.
Mr Zuluaga has the backing of ex-President Alvaro Uribe, a fierce opponent of President Santos and the Farc peace talks.
Vice-president Garzon, a former union leader, ruled out his participation in next year's presidential elections, saying his eyes are set on the mayoral elections of 2015.
Correspondents say the choice of a vice-president will be a crucial strategic decision.
Mr Santos has until March 2014 to formally register his presidential ticket, authorities say.
In his speech, Mr Santos highlighted the alleged social and economic achievements of his administration but repeated the slogan: "We have to finish our task."
Issues outstanding
The peace talks were launched a year ago in the Cuban capital, Havana.
They are aimed at ending five decades of bloody conflict, with the left-wing rebels agreeing to give up their armed struggle and join the legal political process.
Agreement has been reached so far on land reform and political participation.
The other four items on the peace agenda are disarmament, illicit drugs, rights of the victims and peace deal implementation.
Five decades of internal conflict in Colombia have led to the displacement of hundreds of thousands of people.
A study by Colombia's National Centre for Historical Memory suggests 220,000 people have died in the violence.