Honduras election: Hernandez has 'irreversible' lead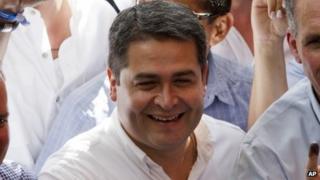 Honduras' conservative governing party candidate has an unbeatable lead in the country's presidential vote, according to election officials.
They say Juan Orlando Hernandez is five points points clear of his main rival, and that with a third of votes yet to be counted his victory is irreversible.
Second-placed Xiomara Castro has alleged massive electoral fraud and refused to accept the results.
Both presidential candidates claim they have won Sunday's election.
Millions of Hondurans turned out to vote amid high security.
Mr Hernandez had more than 34% of the vote compared with about 29% for his left-wing rival, Ms Castro, with votes counted in 67% of polling stations, according to Reuters.
"The outcome is decisive," David Matamoros, president of the electoral court, was quoted by AFP news agency as saying.
"The figures that we have reported reflect a trend that is irreversible. The outcome is not going to change."
'Serious inconsistencies'
Ms Castro, Libre party candidate and the wife of ousted ex-President Manuel Zelaya, had hoped to become the first female president of Honduras.
Mr Zelaya, who was deposed in a coup in 2009, told reporters there were "serious inconsistencies" in up to 400,000 ballots.
"We are going to defend our triumph at the ballot box and if necessary will take to the streets," he said.
"Until proven otherwise, we hold triumph in our hands."
Hundreds of Castro supporters have already protested in front of the election tribunal providing updates on the results.
Around 5.4m Hondurans were registered to vote in the general election, selecting a new president, members of parliament and local mayors.
Voting took place amid tight security, but no serious incidents were reported. Honduras has the highest murder rate in the world.
Nicaragua's leftist President Daniel Ortega has congratulated Mr Hernandez on his victory.
However no official winner has been declared.
The BBC's Will Grant, in the Honduran capital, Tegucigalpa, says the threat of social unrest and political violence looms amid the uncertainty.
Drug traffickers
Mr Hernandez, whose National Party backed the ousting of Mr Zelaya, has vowed to restore order with more soldiers and police on the streets.
Ms Castro has proposed a community police force to tackle local crime, with more soldiers deployed to the borders to combat drug trafficking.
Analysts say victory for Mr Hernandez would be a blow to Mr Zelaya, who has hoped to stage a comeback behind his wife.
Honduras is one of the poorest countries in Latin America. It also has the world's highest murder rate, averaging 20 killings a day.
Much of the violence is blamed on gang violence and drug traffickers.
Nearly 30,000 police and soldiers were deployed to ensure security during Sunday's elections.