Venezuela's power cut was 'sabotage' - President Maduro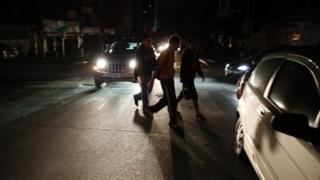 Venezuela's president has said he has proof that Monday's massive power cut in the capital Caracas and other cities was caused by "right-wing" saboteurs.
Appearing on state TV, Nicolas Maduro showed a picture of what looked like a cut conductor cable.
He said the saboteurs' aim was to destabilise the country ahead of local elections scheduled for this weekend.
Caracas' metro ground to a halt and people had to be led out of shops and offices - but power was later restored.
Government opponents say poor maintenance was the likely cause of the blackout.
Power cuts are common in Venezuela, especially in the inland states, but they rarely affect the capital.
'We are afraid'
Speaking on state TV, Mr Maduro said that "we always face these attacks by the right-wing fascists".
"They wanted to make me, as president of the republic, decree a state of emergency and suspend the elections.
"Whoever made this criminal attack wanted to leave our Venezuela without electricity for 24 to 48 hours... thinking that would convince people not to continue with the revolution."
Mr Maduro promised to give more details on Wednesday.
He earlier tweeted that the outage had been triggered in the same place as a blackout in September.
The power cut plunged Caracas into darkness after 20:00 on Monday (00:30 GMT Tuesday) as Mr Maduro was addressing the nation on television.
Caracas resident Olinda Reyes was evacuated from a shopping centre in eastern Caracas shortly after power was lost.
"We are afraid," she said. "There are no buses, the subway doesn't work and we're in complete darkness at the mercy of God."
The blackouts did not affect Venezuela's oil refineries, which are powered by separate generator plants.
Some time after the outage, Electricity Minister Jesse Chacon said power had been restored to most of Caracas. He said the blackout had originated in central Venezuela.
The opposition says the governments of President Maduro and his predecessor, Hugo Chavez, have failed to maintain the power grid to meet growing demand, instead resorting to conspiracy theories to divert attention from mismanagement.
Correspondents said that while Caracas was in darkness, people could be heard banging pots - a frequent means of protest.
Last month Venezuela's National Assembly gave Mr Maduro controversial powers to rule by decree for a year. The local elections are due to be held on Sunday.