Brazilian ex-president was 'killed by military conspiracy'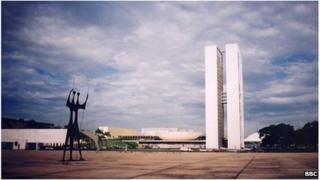 An investigative commission in Brazil says it has found evidence that the ex-President Juscelino Kubitschek was murdered by the 1970s military regime.
The Sao Paulo truth commission, a group of councillors from the city's assembly, is due to present a full report into the case on Tuesday.
The proof of the alleged conspiracy was found after analysing more than 90 pieces of evidence, the group says.
At the time, the former president had just regained his political rights.
Mr Kubitschek, who famously relocated Brazil's capital from Rio de Janeiro to the especially designed Brasilia, died on 22 August 1976 following a car accident on a motorway between Rio and Sao Paulo.
'Plot and political crime'
For decades, there have been rumours that JK, as the Brazilian president from 1956 to 1961 was known, had been the victim of a murder conspiracy.
The 73-year-old centrist politician was a popular opposition leader.
The report of the Sao Paulo Truth Commission presents the findings of an investigation which allegedly uncovered fake records, procedural errors and contradictions.
"We have no doubt that Juscelino Kubitschek was a victim of a conspiracy, a plot and a political crime. There is documentary proof and important testimonies in the more than 29 pages of the report," Sao Paulo councillor Gilberto Natalini told the news website Terra.
Among the evidence is testimony from the driver of the bus that crashed into the former president's car.
He is said to have told the investigators he had been offered money in exchange for admitting guilt for the accident.
Another witness reportedly told the commission he briefly saw a bullet hole in the head of Mr Kubitschek's driver during an exhumation procedure in 1996.
A national Truth Commission of the Brazilian Congress is also looking into the death of Mr Kubitschek and a number of other human rights abuses that allegedly took place during Brazil's military rule.
The remains of Mr Kubitschek's successor, Joao Goulart, another opposition leader, were recently exhumed as part of the investigations into whether he was murdered.
Their findings are not expected before May 2014.