Honduras: Juan Orlando Hernandez confirmed as president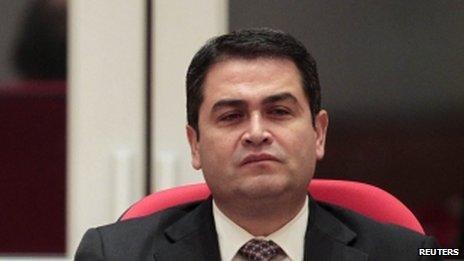 The Honduran electoral tribunal (TSE) has confirmed governing party candidate Juan Orlando Hernandez's win in last month's election.
The result of the 24 November poll is contested by the defeated candidate, Xiomara Castro.
The TSE officially declared Mr Hernandez president for a four-year term from 27 January 2014.
Ms Castro, whose husband Manuel Zelaya was ousted as president in 2009, has demanded the election be annulled.
She said she had been robbed of her victory by "fraud".
Mr Hernandez won 36.9% of the vote with Ms Castro coming second with 28.8%, according to results released by the TSE on Saturday.
The TSE said there was a difference of more than 250,000 votes between the two candidates.
Ms Castro alleges there were "inconsistencies" in thousands of tally sheets, which she alleges were "doctored" in favour of the governing party.
She also said that the voter registry included people who were dead or abroad, and that polling stations were poorly monitored.
Ms Castro and her husband have called on their supporters to march to the TSE on Thursday, the second such protest since the election.
Following Mr Hernandez's confirmation as president, the Organisation of American States (OAS) urged Hondurans to unite behind their elected leader.
"I call on all the citizens of Honduras to recognise, as it should be, their new president, and for the government and the opposition to unite to confront the urgent challenges which this American country faces," OAS Secretary General Jose Miguel Insulza said in a statement.
Ms Castro was standing for the Libre Party, created after the ousting from office of her husband.
Mr Zelaya's removal from office - which the Honduran truth commission said had been a coup - left the country deeply divided and triggered a wave of protests.
Analysts say Mr Zelaya, who could not run for president again, was attempting a comeback as part of his wife's team.
Mr Hernandez, whose National Party backed the ousting of Mr Zelaya, has vowed to restore order to Honduras, which has the highest homicide rate in the world.