Mexican government says 'vigilantes not the target'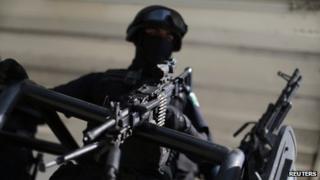 The Mexican government has tried to reassure vigilantes in the western state of Michoacan that they are not the target of its security operation.
Hundreds of troops have been sent to the area to restore order after groups of vigilantes clashed with members of the Knights Templar drug cartel.
Many of the "self-defence groups" have refused to heed the government's call to lay down arms.
The interior minister said "they're not our target, the criminals are".
Minister Miguel Angel Osorio Chong said he wanted to convince the vigilantes that "we are going to do our job".
He said that the security forces had identified the three top leaders of the Knights Templar cartel and were hunting them down.
Two alleged members of the cartel were arrested on Wednesday, but the self-defence groups dismissed them as "minor players".
Vigilante offensive
About 2,000 members of the security forces were deployed to Michoacan on Monday after the "self-defence groups" launched an offensive to drive out the Knights Templar from the area.
The vigilantes accuse the government of not doing enough to protect locals from the extortion and violence carried out by the pseudo-religious drug gang.
One of the vigilante leaders, Estanislao Beltran, said his men were not ready to disarm yet but would co-operate with the security forces.
"We will find a way to step-by-step lay down our arms, but the main objective of the self-defence group is to clean the state of organised crime, in particular the Knights Templar," he said.
Mr Beltran said his group would not take control of any new towns, but neither would it relinquish control of those it had already taken.
On Wednesday, President Enrique Pena Nieto said the government would make every effort and spend whatever was necessary to restore calm in the state.
He also named Alfredo Castillo to the new post of commissioner for peace in Michoacan.
Despite the large security presence in the state, Wednesday saw further violent incidents.
In Apatzingan, the stronghold of the Knights Templar, a pharmacy was set alight, and in Las Delicias a bridge was damaged.
There are conflicting reports as to how many people have so far died in clashes between the security forces and vigilantes.
In the town of Antunez, four people, including an 11-year-old girl have reportedly been killed, but officials say they have only been able to confirm one death.
The National Commission of Human Rights has launched an investigation.
The Knights Templar, who claim to protect the local population from attacks from rival gangs, have accused the self-defence groups of siding with the New Generation drug cartel based in neighbouring Jalisco state.
They say the fact that some of the vigilantes are carrying powerful assault weapons shows they are not local farmers but are in the pay of the New Generation gang.