Chile bans Palestino football club 'anti-Israel' shirt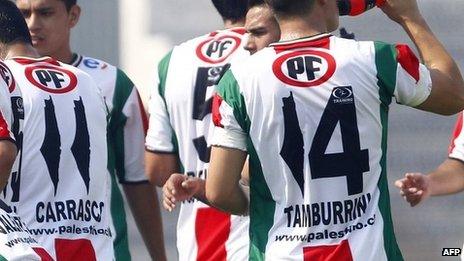 The Chilean football federation has banned a top division team from using a new shirt that has the number one shaped as the map of Palestine before the creation of Israel.
Palestino, a club founded by the large Palestinian community in Chile, has used the new kit in three matches.
Jewish organisations complained that the design implied that all the land was Palestinian.
The Chilean federation said it opposed any form of discrimination.
It also issued a fine of $1,300 (£800) to the Santiago-based club.
Palestino unveiled the new shirts in December, keeping the club's traditional colours, matching those of the Palestine flag - red, green and black.
However, it replaced the number one by a map of Palestine before the UN voted on the partition of the region in 1947.
Jewish organisations in Chile complained, but it was the owner of first division club Nublense, Patrick Kiblisky, who put forward a formal complaint against Palestino.
"We cannot accept the involvement of football with politics and religion," he said.
It took several weeks for the football authorities to act and in the meantime the new kit continued to be used.
The federation said it had decided to punish Palestino because it was opposed to "any form of political, religious, sexual, ethnic, social or racial discrimination".
The club argued that it had used the same design in previous seasons.
On its Facebook page, the club makes clear its views on the Middle East: "For us, free Palestine will always be historical Palestine, nothing less."
Chile is home to one of the largest Palestinian communities outside the Middle East, says the BBC's Gideon Long in Santiago.
Palestino was founded in 1920 by immigrants in the south of Chile, according to the club's website. It became a professional football team in 1952 and has won the league twice.
Related Internet Links
The BBC is not responsible for the content of external sites.