'Serial killer' probe tarnishes Brazilian hospital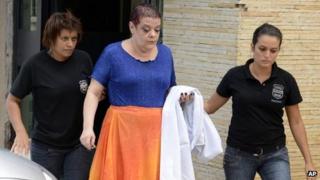 Inside the burns unit at the Hospital Universitario Evangelico in Curitiba, southern Brazil, it is business as usual.
Several young boys watch cartoons with arms, legs and heads bandaged, covering injuries caused by fireworks over the New Year period.
Almost all of the patients are being treated on Brazil's national health service, the Unified Health System.
But the private, philanthropic hospital, which is the biggest in the state of Parana, is itself recovering from a severe blow.
Murder charges
Almost a year ago, it was sent reeling after the head of one of its intensive care units was arrested over allegations that she had killed patients under her care.
Dr Virginia Soares de Souza, along with three other doctors, three nurses and a physiotherapist, was charged with murdering seven patients.
The group of eight was accused of administering muscle relaxants and turning off respirators, allegedly to free up beds.
The scandal has gripped Brazil, where Dr Souza has given television interviews to deny the charges.
"I never shortened the life of anyone," she told the news magazine TV show Fantastico in June. "I just practised medicine exactly as it should be practised."
Police and public prosecutors are also investigating a further 300 deaths after more families came forward in the wake of the arrests.
If charged with, and proved guilty of, the additional 300 deaths, Dr Souza could exceed the toll of British doctor and serial killer Harold Shipman, who murdered an estimated 250 patients.
'Most needy suffer'
Dr Souza and members of her team are currently waiting to hear whether their case will go before a judge or a jury.
Under Brazilian law, first and second-degree murder charges are heard by a jury, while lesser alleged crimes such as manslaughter are dealt with by judges.
A decision is expected later this year, but in the meantime, the hospital has been left to try to restore its reputation.
"People were worried, naturally," said Dr Jurandir Marcondes Ribas Filho, the hospital's new director-general.
The Universitario Evangelico is the biggest hospital in the state. It receives half of all people injured in accidents in the area.
It has also recently opened Brazil's fourth skin bank, carrying out 20 transplants in just four months.
"The hospital suffered, its image was damaged but the greatest difficulty was fund-raising. It affected the hospital financially.
"It's a hospital that principally attends to the most needy of the population so the most needy suffered," he explains.
There was a 50% decline in the number of private patients seeking medical attention at the hospital in the wake of the scandal, according to hospital officials.
Moreover, Dr Ribas says that some 2,000 medical records were seized by prosecutors, 30% of which had not yet been billed, which means the hospital was unable to recover payment for those cases.
He says that a new team of staff is now running the intensive care unit.
Unprecedented investigation
Dr Souza meanwhile remains free - a Curitiba judge ordered her release and that of her medical team - while legal experts examine the case.
Brazilian legislation allows suspects to await trial at home if judges think they are unlikely to flee or be a risk to the population.
Dr Souza's lawyer, Elias Assad, says he is confident his client's case can be dealt with quickly.
"We will prove that there is no criminal offence and that this is the beginning of the end," he told Globo news website G1.
But the district attorney for the public prosecutor has said that the case could take up to five years to be resolved.
According to Parana state prosecutor Fernanda Nagl Garcez, the investigation is unprecedented.
"It's a process that takes some time," she explained.
"Each investigation is very complex and there are more than 300 cases being investigated. Unfortunately, it can't proceed as quickly as the families deserve."
Painful wait
Among the seven alleged victims was Manrique Manoel Neiva Negrao, 73, who stayed in intensive care after having a tumour removed from his stomach in January 2012.
"My father was always very active and strong, I don't remember him being sick before this [stay in hospital]," said Mr Negrao's son, Mauricio.
He said his wife had visited his father on 6 February 2012 and found him well, and keen to leave the hospital.
But Mr Negrao died overnight on 7 February 2012.
"I can't describe the state I was in," Mauricio Negrao said. "It was like being totally anaesthetized."
Dr Souza has denied having played any part in Manrique Negrao's death or that of any of the other alleged victims.
But Mauricio Negrao said that after hearing of her arrest, he and his brother Mario gave a statement to the specialist health crimes police (Nucrisa).
"Now we have to wait until the end of the testimony, for the judge to decide if it will go to a jury," Mr Negrao said, describing the death of his father as "hell".
In the meantime, more than 300 other families are also waiting for a resolution.
And back at the hospital, staff are working to restore trust lost over the episode.
"I cannot make a prejudgement on the outcome," Dr Ribas added. "The hospital had a very difficult year and we continue to have difficulties.
"We are working hard to rescue the image of the hospital, which has existed for almost 60 years."