Mexico police find mass grave and severed heads in Michoacan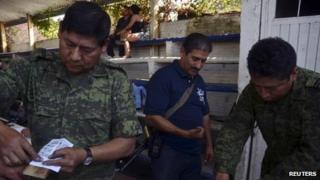 Mexican police have found a mass grave containing at least 20 bodies in the small municipality of Tinguindin, in troubled western Michoacan state.
In nearby Zacan, the severed heads of four men were discovered by residents early on Thursday.
Vigilante groups began an offensive in the area a month ago against the notorious Knights Templar drug cartel.
A spokesman for the groups said the killings were probably a revenge attack carried out by the drug cartel.
Forensic experts are trying to confirm when the bodies were dumped in the mass grave.
The severed heads were found lying in the street close to a church, wrapped in rubbish bags and accompanied by a threatening note.
Mass graves of suspected drug gang victims are not uncommon in Mexico. But it is the location of this latest discovery which is of particular concern, says the BBC's Will Grant in Mexico City.
Federal troops were deployed in the state in mid-January after the vigilantes advanced towards the Knights Templar headquarters in the town of Apatzingan.
In a matter of days, they managed to take over several municipalities previously controlled by the gang.
The vigilantes say state and federal police had failed to provide security to them and their families.
They decided to act to rid Michoacan of the Knights Templar cartel, a brutal organisation known for its involvement in drug trafficking and extortion of local businessmen and farmers
Just over a week ago, the vigilantes agreed to join the official security forces, but most of them have so far refused to lay down their weapons.
On Tuesday, President Enrique Pena Nieto pledged to spend $3.4bn (£2bn) on schools, roads, hospitals and other infrastructure in order to address the underlying causes of the unrest.