AP news agency removes 'altered' Fidel Castro photos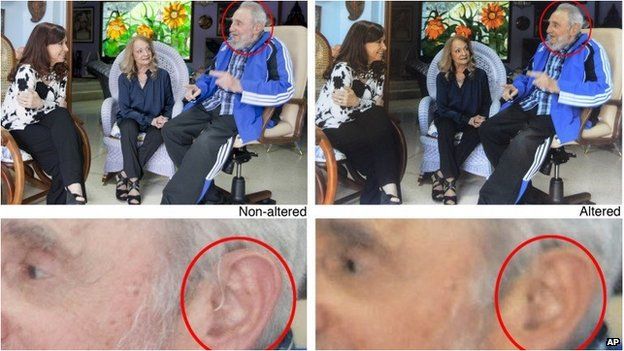 The Associated Press news agency says it is deleting seven "digitally altered" photos of the retired Cuban leader Fidel Castro from its archive.
The handout pictures recently released by a state-owned agency have had what appears to be a hearing aid digitally removed, AP says.
The Cuban government has not reacted to AP's action.
Mr Castro led Cuba for nearly 50 years before handing over power in 2006 to his brother, Raul, for health reasons.
AP says the photos had to be eliminated from its archive because they violated its standards.
"We have concluded that a number of official photographs of Fidel Castro were manipulated. Removing elements from a photograph is entirely unacceptable," AP vice president and director of photography Santiago Lyon said.
AP policy states that photos must depict reality and cannot be manipulated to add or subtract elements.
The news agency says it is reviewing about 150 recent pictures of the Communist leader.
Since retiring in 2006, Fidel Castro has kept a low public profile, with rare appearances
In January, he appeared in public for the first time in nine months.
Mr Castro, 87, attended the opening of an art studio in the capital, Havana.