Nicaragua's new constitution becomes law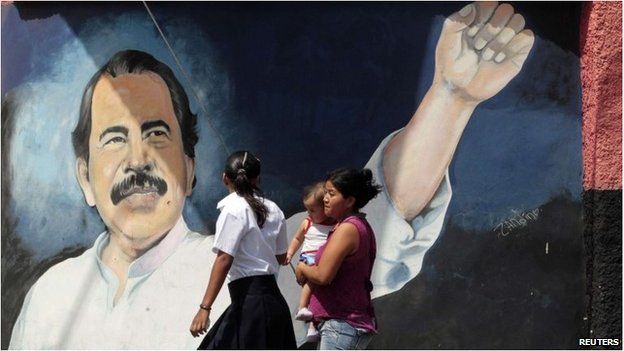 Changes to Nicaragua's constitution have gone into effect, paving the way for its leader, Daniel Ortega, to run for a third consecutive term in 2016.
The bill approved last month also scraps the minimum required votes for election and allows the president to issue decrees with force of law.
Mr Ortega says the changes were needed for the impoverished Central American nation's stability.
But the opposition argues they are a threat to democracy.
The changes were expected to be published on Monday, but hackers attacked the official online publication and its paper version did not appear before Tuesday either.
The Nicaraguan National Assembly approved the changes at the end of January.
The bill scraps limits to the number of terms Nicaraguan presidents can serve.
Nicaragua is one of the poorest countries in the region. Its main export is being threatened by coffee rust, a fungus affecting plantations across Central America.
The constitutional changes were approved by 64 votes to 25.
The reform scraps the previous rule that the winning candidate needs to receive at least 35% of the vote to be elected president.
It also allows the appointment of active duty police and military officials to government offices currently set aside for civilians.
Opposition legislator Maria Eugenia Sequeira, from the right-wing Independent Liberal Party, said the reforms "were designed to serve the interests of the current president."
Mr Ortega, 68, is a former left-wing guerrilla who led a successful revolution against the dictatorship of the Somoza family, who ruled Nicaragua for four decades.
The Cuban-inspired Sandinistas seized power in 1979.
Mr Ortega headed the revolutionary committee that ruled the country until 1984. He was then elected president and served from 1985 to 1990.
In power, the Sandinistas redistributed property and made huge progress in the spheres of health and education.
However, their pro-Cuban orientation alarmed the United States, which launched a sustained campaign of embargo and armed subversion.
The party lost elections in the 1990s, but Mr Ortega returned to power in January 2007, after a successful election campaign.
Controversially, the Supreme Court ruled that he could run again in 2011.