US: Venezuela's anti-government protests claims 'false'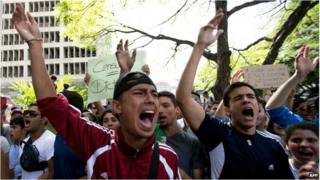 The US State Department says Venezuela's accusations that it is helping to organise anti-government protests are "baseless and false".
On Sunday, Venezuela expelled three US diplomats for allegedly meeting students who have been leading marches.
Meanwhile, the mayor of the capital, Caracas, Jorge Rodriguez, said he had not authorised another protest called by the opposition for Tuesday.
Venezuela has seen a string of rallies, with three protesters dying in clashes.
On Monday, groups of students took to the streets again in small anti-government demonstrations.
In an official press statement, the US State Department rejected Venezuela's accusations and urged dialogue.
'Baseless and false'
"The allegation that the United States is helping to organise protesters in Venezuela is baseless and false. We support human rights and fundamental freedoms - including freedom of expression and of peaceful assembly - in Venezuela as we do in countries around the world," spokeswoman Jan Psaki said.
Tuesday's demonstration was called by the opposition leader Leopoldo Lopez, who is wanted by the authorities on charges of inciting violence.
While officials say no opposition march will be permitted, a large "concert for the youth" is scheduled in Caracas' central square on Tuesday afternoon, he said.
Earlier, Foreign Minister Elias Jaua had named the three US diplomats whose expulsion had been announced by President Nicolas Maduro on Sunday.
Consular officials Breann Marie McCusker, Jeffrey Gordon Elsen and Kristopher Lee Clark were accused of meeting students in private universities in the last two months.
On Saturday, US Secretary of State John Kerry issued a statement expressing concern about the rising tensions in Venezuela.
The main opposition grievances are high inflation, crime and the shortage of some staples.
The government has blamed the shortages on "saboteurs" and "profit-hungry corrupt businessmen".
Mr Lopez was last seen on Wednesday, when three men were shot dead at the end of opposition protests in the capital.
Mr Maduro has accused Mr Lopez of inciting violence as part of a coup plot against his left-wing government.
The opposition say they were killed by pro-government militias known as "colectivos".
Mr Lopez, 42, is a former mayor of Chacao district, in eastern Caracas. He organised the recent protests against the government.