Venezuelan police and opposition activists clash in Caracas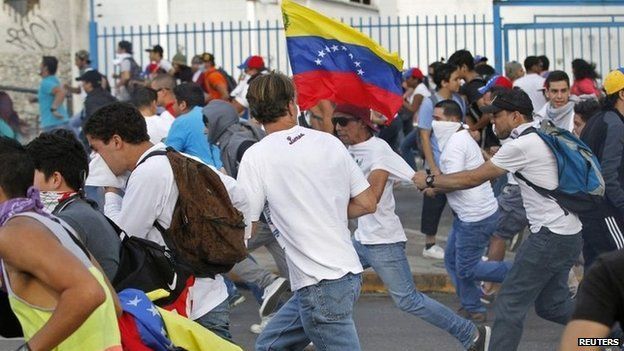 Venezuelan police and opposition demonstrators have clashed at the end of a march that gathered tens of thousands of people in Caracas.
Several people were injured, as police fired tear gas and activists hurled stones in the Altamira district.
Supporters of left-wing President Nicolas Maduro marched in central Caracas and other cities.
Ten people have now died in nearly two weeks of protests, which Mr Maduro has called a coup attempt.
He says the violence is part of a strategy devised by right-wing groups, with the support of the US, to destabilise his government.
"We have a strong democracy. What we don't have in Venezuela is a democratic opposition," Mr Maduro told thousands of his supporters in Caracas.
Mr Maduro was elected last April, following the death of Hugo Chavez, who was in office for 14 years.
Opposition leader Henrique Capriles, who was defeated in last year's presidential election, led a march in the capital.
He spoke against the arrest, on Tuesday, of fellow opposition politician Leopoldo Lopez, accused by the government of inciting violence.
Mr Capriles called on his supporters to carry on protesting, but to avoid any form of violence.
"There are millions of reasons to protest, there are so many problems, so many people suffering. But his movement we have built must be different," he said.
The opposition's main grievances are rampant crime, high inflation and the shortage of many staples. It blames the economic problems on the left-wing policies of the past 15 years.
Opposition demonstrators also took part in marches in western Tachira and Merida states.
The current wave of protests began on 12 February. Three people were shot dead at the end of those marches in Caracas by unknown gunmen.
Daily protests have been held in the capital for the past 11 days.