Street blockades divide opinion in Venezuela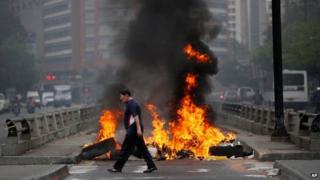 Barricades have become a common sight during the recent wave of anti-government protests in Venezuela. BBC Mundo's Vladimir Hernandez in Caracas takes a closer look at who is erecting them and why their use is controversial.
For motorists in Venezuela, smoke is currently a sure-fire sign that there is trouble ahead and the road is closed.
During weeks of student-led anti-government demonstrations, burning barricades have become the most popular form of protest.
But the blockades have divided minds even within the opposition as they cause disruption to entire neighbourhoods and make it difficult for people to get to work and home again.
Those behind the barricades argue that the economic and social climate in Venezuela is so bad that they have to resort to guerrilla-style tactics to get a response from the government of President Nicolas Maduro.
"Many of us think that, yes, it is a shame that someone can't go to work because of our actions. But if we don't protest now, maybe in 10 years that person won't have a job to go to," says Laura Candent, a university student in her 20s, referring to Venezuela's poor economic state, one of the main reasons behind recent protests.
"We are demonstrating because we have the worst crime rate in Latin America, and the inflation rate is 50% or 60%. Our dreams of the future as young people have been completely shattered," adds Leoncio Marichal, another university student.
Hit-and-run
The "guarimbas", as Venezuelans call these barricades, have been evolving since the protests started earlier this month.
When they first sprang up, they were little more than piles of rubbish and cardboard boxes, which would be set alight at night.
They were easily removed by the Venezuelan security forces and those guarding them were quickly dispersed when teargas and rubber bullets were fired.
Now, they are almost fortress-like structures. made out of bricks, mattresses, wooden planks and sometimes even barbed wire.
Those who erect them now resort to hit-and-run tactics. When the riot squads move in, they hide. When the riot squads move out, they return and rebuild.
Travelling across the capital, Caracas, after sunset can be eerie as solitary tyres burn in streets which should be busy with rush-hour traffic but which are completely deserted except for the barricades.
Most of the blockades have been erected in the eastern part of Caracas, a traditional opposition stronghold.
But some barricades have sprung up in Chavista areas, where supporters of President Nicolas Maduro and his predecessor in office, Hugo Chavez, live.
'Fascists'
The president has denounced those who build the barricades as "fascists" and blamed them for the death of a motorcyclist whose throat was slit when he accidentally drove into barbed wire strung across a road.
Some Venezuelans say the guarimbas are counterproductive, especially when they are erected in residential areas rather than commercial thoroughfares.
They argue that those who suffer are local residents, and that the political impact is limited.
"They are violating my right of transit," courier Carolina Fajardo tells the BBC.
Business and shops in some parts of Caracas have suffered as a result, and been unable to open for several days.
Taxi drivers have also complained about the effect the barricades are having on their business,
"Many drivers are refusing to work at night because they think it can be dangerous," says Juan, a Caracas taxi driver who does not want to give his last name.
"We normally have around 50 drivers available at night. But now we are only seeing around 10 willing to go out," he adds.
'Within the law'
Motorists fear getting caught up in operations by the security forces, which have been accused of using heavy-handed tactics against the protesters.
President Maduro told the BBC that the response by the security forces had been "strictly within the law", but many would rather not risk being near a barricade when the police and military move in to dismantle it.
None of the opposition leaders in Venezuela has publicly backed the use of barricades as a form of protest, but neither have they strongly condemned it.
Many Venezuelans remember that in 2002, opponents of then-President Chavez also carried out a series of street blockades.
Some analysts say discontent with the disruption it caused cost the opposition votes in subsequent elections.
Over a decade later, the opposition fears that the very barricades erected in protest at the government could actually have the effect of strengthening those in power.