Venezuelan opposition keeps protests despite carnival season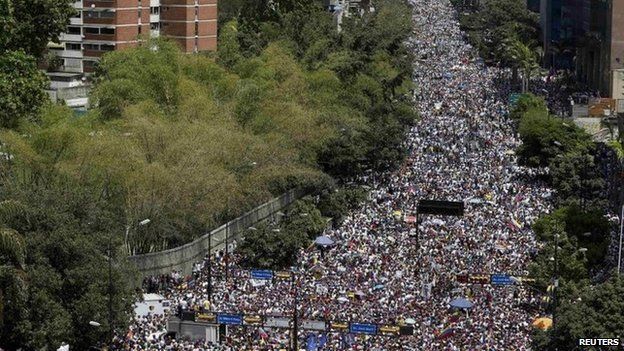 Thousands of opposition demonstrators in Venezuela have marched through the streets of Caracas in new protests against the government.
At the end of the march, activists clashed with police in the opposition strongholds of Chacao and Altamira.
President Nicolas Maduro extended the traditional carnival holidays until the end of this week and asked Venezuelans to rest and celebrate peace.
At least 17 people have been killed in more than three weeks of unrest.
Opposition leaders have asked people to ignore the carnival season, when many Venezuelans traditionally go to the seaside.
They are demanding the release of dozens of demonstrators and activists arrested since last month, including high-profile politician Leopoldo Lopez.
The opposition blames the left-wing policies of Mr Maduro and his predecessor, Hugo Chavez, for high inflation, rampant crime and the shortage of many staples.
Mr Maduro says the opposition has encouraged violent protests as part of a right-wing coup plot.
He called on Venezuelans to embrace the traditional carnival season, which has been extended to seven days.
"Happiness will conquer the embittered. The Venezuelan people have won because happiness and peace have conquered," he said on national television.
But the opposition says it does want to lose momentum.
"Nobody is tired here and we will fight until the government falls", protester Carlos Eduardo Vega told the AP news agency.
On Sunday, the government released 41 people arrested during clashes between demonstrators and police in opposition strongholds in eastern Caracas.
Last week, US Secretary of State John Kerry said he was working with Colombia and other countries to form a mediation strategy for Venezuela's political crisis.
Mr Kerry said it would be "very difficult" for the two sides to come to an agreement without assistance.
Political divisions have deepened in Venezuela after the election of Mr Maduro last April. He succeeded Mr Chavez, who died of cancer after 14 years in office.
Henrique Capriles, who lost the vote by a narrow margin, accused the government of electoral fraud and demanded an audit.
Venezuela's electoral council in June announced that the audit confirmed President Maduro's win by 1.5 percentage points.
Mr Capriles' appeal to the country' highest court was also rejected after the Supreme Court ruled he had not offered sufficient proof to back up his allegations.