Venezuela protests on eve of Chavez's death anniversary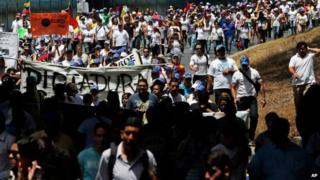 Thousands of protesters in Venezuela have marched through the streets of Caracas shouting slogans against the socialist government of Nicolas Maduro.
They also demanded the release of dozens of activists detained since demonstrations began a month ago.
Tension is high ahead of planned events to mark the first anniversary of President Hugo Chavez's death later on Wednesday.
Mr Chavez died of cancer after 14 years in office.
Opposition demonstrators, wearing predominantly white, marched towards working-class districts loyal to the government.
"Dictatorship," read one the banners. "There is enough tear gas to make Venezuela cry," read another one.
As has happened over the past few weeks, groups of activists clashed with riot police in eastern Caracas opposition strongholds.
Mr Chavez was succeeded by Mr Maduro, who won a tightly contested election against opposition leader Henrique Capriles last April.
Mr Maduro promised to give continuity to Mr Chavez's programme of social reforms, or the "Bolivarian Revolution", as the late president called it.
The government has planned a number of ceremonies to mark the date, but opposition demonstrators have vowed to return to the streets during the day.
"They're celebrating the anniversary of a tyrant. We have to resist!" 18-year-old Aquiles Aldazo told Reuters.
But the Chavez legacy is praised by many, especially in poorer quarters of Caracas and other Venezuelan cities.
"For me, he was something great. I have cried a lot for him, more than for my family," Felida Mora told the AP news agency.
She travels at least once a month to the capital to pray in an improvised chapel dedicated to the late president.
The opposition blames the left-wing policies of the past 15 years for high inflation, the shortage of many staples and rampant crime.
The protests began in the western states of Merida and Tachira at the beginning of February, with demonstrators asking for more security in the region.
Dozens of demonstrators were arrested. The opposition called for new marches on 12 February to demand the release of the students and other activists detained.
Three people were shot dead in Caracas at the end of the 12 February marches. Daily anti-government protests have been held ever since.
The government and the opposition have traded accusations over the killings.
At least 18 people have been killed since the unrest began.