Cuba agrees to open EU talks on bilateral relations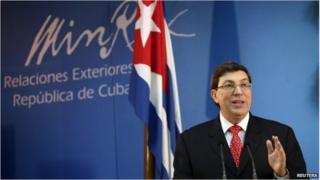 Cuba has officially agreed to talks with the European Union on restoring bilateral relations with the bloc.
Foreign minister Bruno Rodriguez said Cuba accepted the EU invitation made last month "with satisfaction".
The negotiations are expected to boost trade and investments in the communist-run island, but will be linked to progress on human rights.
The EU restricted its ties with Cuba in 1996 to bolster dialogue on the issue and multi-party democracy.
The bloc is already Cuba's second-biggest economic partner after Venezuela, and many member states have bilateral agreements with the island.
'Unilateral policies'
It also represents a major source of tourism revenue, with hundreds of thousands of European tourists visiting Cuba every year.
"Cuba welcomes with satisfaction the 10 February proposal of the high official, which will put an end to the unilateral EU policies towards Cuba and accept the start of the negotiations," Mr Rodriguez told reporters in the Cuban capital, Havana.
The minister was referring to EU foreign policy chief Catherine Ashton who, at the time, said she hoped Cuba would take up the offer.
A timeframe for the negotiations has not yet been agreed but EU negotiators have already said that they aim to sign a new bilateral agreement by the end of 2015.
The announcement comes with Cuba engaged in an economic and social reform process launched by President Raul Castro.
It indicates the most important diplomatic shift since the EU lifted sanctions against Cuba in 2008.
The communist government has also already expressed willingness to engage in talks with the US.
After a meeting with an EU official last month, Mr Rodriguez said he hoped President Barack Obama would follow Europe's example.
The US imposed an economic embargo on Cuba over its economic policies and human rights records in 1962.