Venezuela expels Panama ambassador over 'conspiracy'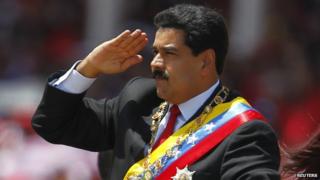 Venezuela has expelled Panama's ambassador and three other diplomats amid growing tensions over opposition protests.
The officials were given 48 hours to leave the country.
It comes a day after Venezuelan President Nicolas Maduro broke diplomatic relations and froze economic ties with Panama.
At least 20 people have died in anti-government protests in Venezuela in the last month.
Mr Maduro has accused Panama of conspiring to bring down his government.
The latest fallout comes after the Central American nation requested a meeting at the Organization of American States (OAS) to discuss Venezuela's crisis.
"There are moves by the United States government in accord with a lackey government of a right-wing president which has been creating the conditions for the OAS and other bodies to step towards an intervention in our country," Mr Maduro said earlier this week.
Barricades
Four diplomats working at Panama's embassy, including ambassador Pedro Pereira, were declared "persona non grata" on Thursday, according to Panama's Deputy Foreign Minister Mayra Arosemena.
Venezuelan Foreign Minister Elias Jaua said Venezuela also had suspended debt negotiations over $1bn (£600m) owed to Panamanian exporters, according to reports.
Meanwhile a member of Venezuela's National Guard and a motorcyclist became the latest victims of the unrest in the country on Thursday.
The pair were shot dead during clashes that broke out when a group of men of motorcycles tried to clear opposition barricades in a street in Caracas.
The opposition accuses the government of using armed civilian groups on motorcycles to break up demonstrations.
Thousands of government supporters and troops took part in a huge parade through the centre of the capital, commemorating the first anniversary of former President Hugo Chavez's death on 5 March.
In other parts of the city, anti-government protesters kept up their barricades, despite an appeal made by opposition leaders to "respect" the anniversary.
Venezuelans have long been complaining about high levels of crime, record inflation and shortages of some staple items.
But in the last three weeks marches initially started by disgruntled students in the western states of Tachira and Merida spread to other areas and gained support.
Panama said it was "astonished" by Venezuela's decision to break diplomatic relations and called Mr Maduro's words "unacceptable".