Argentine leader faces protests over economic woes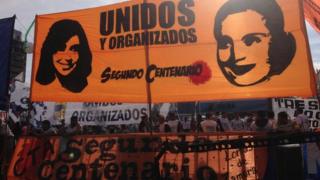 The populist, Peronist government of Cristina Fernandez de Kirchner in Argentina is facing a series of protests and strikes over the state of the country's economy.
The government is struggling to contain inflation figures which independent analysts say are well over 30%, and has, in part, blamed the country's traditionally strong agricultural sector for the instability.
In some ways, Ms Fernandez was back to her combative best at last week's opening of a new congressional session in Buenos Aires.
Her supporters outside the grand old Greco-Roman building in the heart of the Argentine capital made plenty of noise on what was still a relatively rare public appearance for the president following her prolonged absence at the end of 2013 to recover from what was reported to be a serious head injury.
Her supporters are mainly blue-collar working-class residents of the capital and the growing numbers of Argentina's urban poor.
In Ms Fernandez they see a new mother of the nation, a new Evita.
Images of the two women side by side are now commonplace at Peronist rallies and there is nearly always a strategically placed photograph or image of Eva Peron in the background when the president speaks in public.
Her critics say that in these difficult economic times she is appealing to the most basic loyalist instincts of the Peronist movement, hiding behind shadows of former leaders, rather than taking the blame directly for the country's ills.
While clearly at ease justifying her government's record, now well into her second term as president, Ms Fernandez is not a great orator. She spoke without a script but with no sense of occasion for well over two hours.
Methodically, she went through subject matter by subject matter, repeating a long list of positive figures about the state of the nation and almost asking what all the fuss was about.
The president underlined the millions of pesos her government is spending on social programmes and education reforms, how Argentina is "going through the most virtuous period of economic growth in the last 200 years".
The president also justified her government's controversial policy of renationalising state assets that had been privatised under previous governments, including the national airline, Aerolineas Argentinas, and the oil company, YPF.
The enemy
"We have shown conclusively," she said during her congressional address, "that the state is more efficient, or at least as efficient, as the private sector when it comes to managing the economy."
However, such radical policies and the subsequent charge that her government had failed to properly compensate the "injured" parties sent shudders through regional markets and badly damaged confidence in Argentina.
For months now, the peso has been losing value and according to independent analysts annual inflation rates have crept up to almost 40%. The government, which has quoted a much lower number, was accused and warned by international financial agencies of trying to hide the real rate of inflation by producing "massaged" figures.
Attempts to keep a lid on things by forcing stores to keep down prices on a range of basic goods have proved only partially successful.
The economy is clearly in trouble. Corruption, underinvestment in the state sector and oppressive levels of protectionism have all taken their toll, but much of President Fernandez's ire has been directed towards that sector which once made this one of the wealthiest nations in the world - agriculture.
There is another Argentina, beyond the city limits and far from the passionate, flag-waving crowds of Buenos Aires.
Driving his antiquated 1970s Argentine-made truck on a rutted farm track besides seemingly endless fields of soya and maize, Omar Zunina is part of this country's traditional economic backbone.
But here, in the Pampas, farmers like Mr Zunina, feel increasingly at odds with the president.
"Ever since 2008 there's been this national conflict with the state taking more and more of what we make", he says. "This government now regards us as the enemy."
Self-preservation
In a small Santa Fe cooperative, tonnes of grain and soya are loaded onto trucks for export. Huge silos and warehouses dominate the landscape here. Agriculture, particularly here in the hinterland, no longer conforms to that romantic image of Argentina as a wild land, tamed only by horse-riding gauchos.
Foreign currency reserves are in very short supply so the government needs its share of the profits made by the farming industry. But with high rates of inflation ministers accuse the big producers of holding onto stock, to try and drive up prices.
Like Mr Zunina, Eduardo Buzzi is another Argentine whose ancestors originally came from Italy and is tied to the land. Mr Buzzi is now the president of the Argentine Agrarian Federation, representing small-scale farmers and producers.
If he feels challenged by the government's rhetoric he does not show it - between answers in our interview he passes his mate gourd to his secretary to top up with hot water from a flask. Like many Argentines, he seems almost addicted to the strong herbal tea.
"This is not a problem of our making", Mr Buzzi tells me. "The reason the government is pressing us for a bigger and bigger cut is because they're the ones that have depleted the accounts of the Central Bank."
Responding to allegations from some in the government that farmers are behaving in an unpatriotic manner, Mr Buzzi hits back. "For a farmer or small producer faced with inflation or uncertainty about prices, his grain becomes his savings account."
"It's not for speculation nor is it anti-patriotic. It's an act of self-preservation", he says.
Inflation, speculation, currency controls and ultimately street protests. It's a dangerous domino effect that President Fernandez's government is struggling to contain.
There are now almost weekly protests in Buenos Aires and in the provinces. Teachers, municipal workers, police, the transport sector, trades unions and political movements have all taken to the streets.
There have been individual strikes too but, not yet, the all-out general stoppage the government really fears and the kind of protest that has toppled administrations in the past.
At one particularly noisy demonstration by the so-called "Quebracho" movement in Buenos Aires, a group which promotes the abolition of private property and the reduction of poverty, I watched as groups of masked youths sprayed graffiti and damaged property belonging to privatised utilities, especially regional electricity companies they accused of exploiting the devaluing peso and high inflation while workers on meagre salaries struggled to make ends meet.
Social tension
"We're not against the government, per se," says Facundo Escobar, a university postgraduate student.
"What we're against are the big companies who want to profit from even more instability. In the end it's only workers coming out onto the streets, demanding what is just and right, who will resolve these issues."
Giving in to the competing demands from all those sectors would be a mistake, says Martin Redrado. He is a former governor of the Central Bank who fell out with the president in 2010 when he says she started using the Central Bank to pay for government debts and to fund its expenditure.
"The government is running out of dollars," says Mr Redrado, now making a living as an independent economist. "In 2010 we had $50bn (£30bn) in the Central Bank, now there's $27bn (£16.25bn) and some coins," he adds.
Describing the dilemma facing President Fernandez, Mr Redrado says, '"It's like a dog chasing its tail, it's a continuous movement. What the government is trying to do is have salaries increase less than inflation in order to anchor the inflation and make sure it doesn't spiral above 35%, so I think we're going to have a period of social tension."
Buenos Aires is still a beautiful city with theatres, cafes and buildings of great splendour but it's a glory that is gradually fading.
Cultural centres
In the poor suburbs of the capital where the expanding slums encroach on the railway freight lines, Ms Fernandez is popular among the growing number of urban poor, where her administration supports many social programmes.
Victoria, a young Peronist volunteer, feels a close connection with what the president is trying to achieve.
"Cristina's one of us - she's been a militant Peronist all her life", says the unemployed former student who is giving her time in the community for free. "This is a popular government that is introducing schools, basic sanitation and cultural centres - all for the urban poor."
How deep the crisis is in Argentina is debatable and comparisons of the situation here with a much more volatile and polarised situation in Venezuela are wide of the mark.
However, some see President Fernandez as merely the latest in a succession of Argentine leaders presiding over the decline of a once great and wealthy nation.