Salvadorean presidential candidate demands fresh polls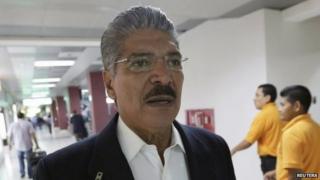 El Salvador's conservative presidential candidate, Norman Quijano, has called for Sunday's election to be annulled.
Preliminary results from the run-off suggested he had lost by fewer than 7,000 votes to former left-wing rebel Salvador Sanchez Ceren.
A manual tally is under way and the official results are expected to be announced on Friday.
Mr Quijano demanded a new poll be held after the electoral council denied his request for a vote-by-vote recount.
El Salvador's Supreme Electoral Tribunal is checking that records from polling stations match electronic tallies from the preliminary count, but it dismissed Mr Quijano's call for a recount of individual votes.
Mr Quijano said that "on a national level, between 30,000 and 40,000 votes were stolen", and demanded fresh polls.
Members of Mr Quijano's conservative Arena party also walked out of the manual vote tally, which they had been monitoring, forcing a temporary halt to the process.
Enduring rift
According to the preliminary results, Mr Sanchez Ceren has 50.11% of the vote to Mr Quijano's 49.89%.
But Arena party president Jorge Velado told reporters he had "proof" that his party won the presidential election.
The poll and the controversy surrounding it reflects the deep political rift that still divides the Central American nation more than two decades after the end of its civil war.
Mr Sanchez Ceren's party, the Farabundo Marti Liberation Front (FMLN), turned from a rebel group into a political party at the end of the war (1980-92).
When the FMLN won the 2009 presidential election, Mauricio Funes became president and Mr Sanchez Ceren was named vice-president.
Mr Funes was a journalist who was sympathetic to the FMLN rebels during the civil war but was never a guerrilla.
If Mr Sanchez Ceren were to be declared the winner, he would become the first former rebel to serve as El Salvador's president.
Mr Quijano was the mayor of the capital, San Salvador, and ran on a promise to crack down on crime and the country's notorious street gangs.