Salvadorean ex-rebel Sanchez Ceren wins vote - officials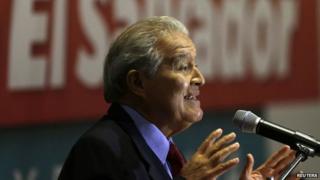 Former left-wing rebel Salvador Sanchez Ceren has won a tight presidential run-off election, El-Salvador's electoral tribunal has said.
But his rival has the right to appeal and officials say a final declaration cannot yet be made.
Conservative candidate Norman Quijano had earlier called for a new poll after preliminary results indicated a margin of victory of fewer than 7,000 votes.
Mr Sanchez Ceren would be the first ex-rebel to serve as president.
He became vice president of El Salvador in 2009, while Mr Quijano was the mayor of the capital, San Salvador.
The election body has already rejected calls from Mr Quijano's party for a rerun.
The Supreme Electoral Tribunal announced on Thursday that Mr Sanchez Ceren, a member of the Farabundo Marti Liberation Front (FMLN), had won 50.11% of the vote after a manual count.
Mr Quijano, of the conservative Arena party, won 49.89%, the election body said.
On Monday, the president of the Arena party, Jorge Velado, told reporters he had "proof" that his party had won the presidential election.