Venezuelan forces clear Caracas protest hotspot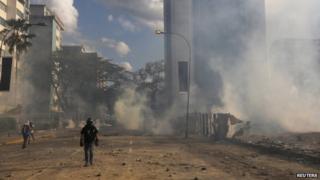 Venezuelan soldiers have cleared protesters from Plaza Altamira in the capital Caracas.
The square in the east of the city has been at the centre of anti-government demonstrations which have disrupted the country for more than a month.
President Nicolas Maduro said government forces would "continue liberating territory" from the protesters.
At least 28 people have been killed in six weeks of unrest.
Deadline
The clearance of the square took place on Sunday.
On Saturday, President Maduro had warned protesters - whom he calls Chuckys in reference to the murderous doll in the 1980s horror film Child's Play - to leave or face eviction.
"I'm going to give the Chuckys, those assassins that have taken over Plaza Altamira and Francisco de Miranda Avenue, a few hours, and if they don't clear out today I am going to clear those spaces with public force," he said.
President Maduro has blamed the opposition for many of the protest-related deaths and has charged opposition leader Leopoldo Lopez with inciting violence.
Among the dead are a number of government supporters and members of the National Guard.
But the opposition accuses the security forces of violently repressing the protests, shooting live rounds at demonstrators and severely beating those detained.
Eight members of the security forces have been arrested in connection with the shooting on 12 February of an anti-government protester and a government supporter.
Soldiers drove into Altamira square on around 50 motorcycles on Sunday, detaining more than a dozen protesters.
They also fired water cannon and tear gas at those gathered in the square.
Opposing views
Plaza Altamira, in the opposition Chacao neighbourhood, has been the scene of nightly protests by Venezuelans calling for the resignation of the government of President Maduro.
The current wave of protests first started in the western city of San Cristobal when students demonstrated about the lack of security in Venezuela.
It quickly spread to the capital and other cities and has been joined by many who are disgruntled by the country's high inflation and shortages of some staple foods.
But there have also been mass rallies in support of President Maduro.
On Sunday, thousands marched to the presidential palace to show their backing for the government's policy of subsidising certain food staples.