Colombian vice-president rejects Brazil job because 'dog would not adapt'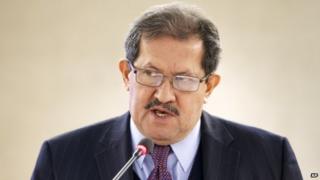 Colombian Vice-President Angelino Garzon has turned down the post of ambassador to Brazil, saying that his German Shepherd dog would not adapt to the hot weather.
In an interview with Colombian magazine Semana, Mr Garzon said the climate of Brasilia might harm the dog's health.
Colombian Foreign Minister Maria Angela Holguin has issued an apology to Brazil, a major trading partner.
She described the incident as "very embarrassing".
Mr Garzon had written a letter to the Colombian president explaining that he had rejected the job for personal and family reasons, but failed to mention the dog.
Ms Holguin said she was saddened and disappointed.
"When he mentioned personal problems, you would expect something deeper than that. It is as though he doesn't realise the importance Brazil has," she said.
Ms Holguin said his "excuses" had only damaged Colombia's image in Latin America and its role as one of Brazil's main commercial partners.
'Hairy dog'
Earlier this year, Mr Garzon, 67, announced that he would not run for re-election alongside President Juan Manuel Santos on 25 May.
In the interview with Semana, he said he would consider running for mayor of the capital, Bogota, or Cali.
"In local government, you can have a bigger impact in improving people's lives than as vice-president," he said.
Reporter Maria Jimena Duzan then argued that his reasons for not accepting the job of ambassador to Brazil did not seem entirely convincing.
"I have turned down the ambassador job because the dog you see on that picture is very hairy and the hot climate of Brasilia could harm its health," replied Mr Garzon.
He later defended his decision and added: "The dog is not government property. Wherever Angelino [Garzon] goes, it goes."