Brazil hails 'iconic' World Cup winner Hilderaldo Luiz Bellini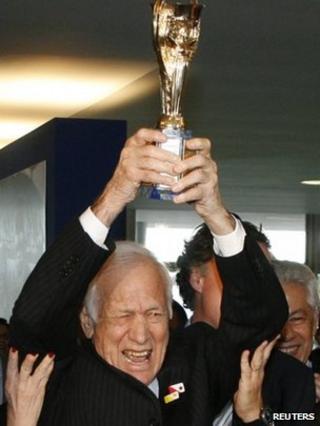 Brazilian President Dilma Rousseff has led tributes to Hilderaldo Luiz Bellini, the captain of Brazil's first World Cup winning football team.
He died on Thursday aged 83, after complications from a heart attack.
Ms Rousseff said Brazil had lost an "icon of the strength of Brazilians in overcoming adversity".
Bellini led the team to the title in Sweden in 1958. He was the first winning captain to lift the trophy above his head in celebration.
The Brazilian president wrote on Twitter: "Bellini forever won a place in the heart of every Brazilian by lifting the Cup with both hands."
Brazilian football legend Pele played alongside Bellini in 1958, and said the captain had given him "much guidance".
"I was 17 years old, was too young and everything was new to me. It is a great loss for Brazilian football," he said.
Bellini's wife, Giselda, said he deserved "to be remembered for his humility".
He will be buried on Saturday in his home city of Itapira in Sao Paulo state.
A 1960 statue of Bellini shows him holding the original Jules Rimet trophy aloft one-handed outside the Maracana Stadium in Rio de Janeiro, which will host this year's World Cup final.
Brazil have won a record five World Cups, the last time in 2002.