Venezuela investigates '60 cases of human rights abuse'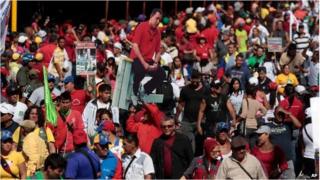 Venezuela's attorney general, Luisa Ortega Diaz, says 60 cases of alleged human rights abuses during recent street protests are being investigated.
At least 15 officials had been imprisoned in connection with the violence, Ms Ortega said.
She said the unrest had killed 31 people, including six security agents, and left more than 450 injured.
Venezuela accuses "right-wing fascists" of inciting the unrest as part of a plot to overthrow the government.
President Nicolas Maduro says the United States is orchestrating the demonstrations, but the US says it is being used as a scapegoat for Venezuela's internal problems.
Ms Ortega also said there was a "systematic and planned international attack" against Venezuela, but that government officials who had done wrong would have to face the consequences
'Police excess'
"Yes, there has been police excess, we won't deny it and the attorney general's office is investigating it," Ms Ortega told local broadcaster Televen.
She said that out of the 461 people injured in the protests, 318 were civilians and 143 were government officials.
The street protests were started in early February by disgruntled students, but quickly became a near-daily feature in opposition strongholds around Caracas and in other cities of Venezuela.
The authorities have reported another three deaths during protests this weekend.
The governor of the western state of Merida, Alexis Ramirez. said a man was shot in his shoulder during clashes between security forces and protesters there and later died in a hospital on Saturday.
Two other men were reportedly shot dead in the cities of Valencia and San Cristobal.
Also on Saturday, supporters and opponents of President Maduro staged rival rallies in the capital, Caracas.
Last week, two opposition mayors were arrested for allegedly inciting the unrest.
The opposition says the government is violently repressing the protests and trying to silence the administration's critics.
President Maduro says he has repeatedly invited the opposition to the presidential palace for talks, but that they have refused to attend.
Opposition leader Henrique Capriles said he had accepted the invitation but had yet to meet Mr Maduro.