Venezuela opposition congresswoman's mandate revoked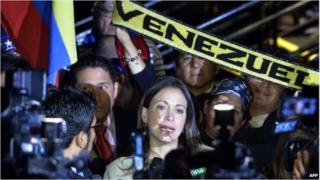 Venezuela has stripped a leading opposition congresswoman of her mandate after she spoke before the Organization of American States (OAS) last week.
Maria Corina Machado had been invited by Panama to give her account of the recent wave of unrest in Venezuela.
But Venezuela's authorities say she "acted as a Panamanian official" by accepting the invitation.
The decision means Ms Machado will lose her parliamentary immunity and could be prosecuted for "inciting violence".
More than 30 people have died since mid-February in demonstrations against high inflation, food shortages and violence levels.
The president of Venezuela's National Assembly, Diosdado Cabello, said the congresswoman had contravened the constitution.
He said she was introduced at the OAS meeting in Washington DC as an "alternate ambassador" for Panama.
"Maybe the Panamanian government will now name her permanent ambassador," he added.
'Former congresswoman'
Arriving in Peru's capital, Lima, for a seminar at an institution presided by the 2010 Nobel Prize winning author Mario Vargas Llosa, Ms Machado accused Mr Cabello of running a "dictatorship in the National Assembly".
She wrote later on Twitter: "Mr Cabello: I am a Congresswoman at the National Assembly as long as the people of Venezuela want it."
She also said she was prepared to deal with the consequences of her actions.
"If the price that I must pay for having gone to the OAS so that the voice of the Venezuelan people could be heard is that I'm being persecuted today, in what they're doing to me now, I will pay for it one and a million times."
On Saturday, President Nicolas Maduro had already referred to the opposition politician as "former congresswoman".
Ms Machado has been openly demanding the resignation of Mr Maduro since the start of the recent protests.
The government accuses "right-wing fascists" of inciting the unrest as part of a plot to overthrow the government.
President Maduro says the United States is behind the demonstrations, but the US says it is being used as a scapegoat for Venezuela's internal problems.
More than 460 people have been injured in the protests.
The authorities say they are investigating at least 60 cases of alleged human rights abuses.
The street protests were started by disgruntled students, but quickly became a near-daily feature in opposition strongholds around Caracas and in other cities of Venezuela.