Salvadorean court rejects opposition challenge to poll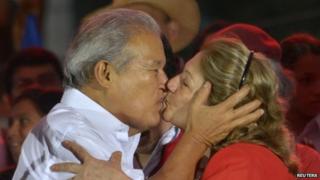 El Salvador's electoral court has rejected an appeal by the right-wing Arena party against the results of the presidential election held on 9 March.
The court dismissed Arena's demand for an annulment and confirmed Salvador Sanchez Ceren of the left-wing FMLN party as president-elect.
Arena's candidate Norman Quijano lost to Mr Sanchez Ceren by 0.22 percentage points, the tribunal said.
More than 20 years after the end of its civil war, the country remains divided.
Mr Quijano, who had been lagging behind Mr Sanchez Ceren by 10 percentage points in the first round of the presidential poll, made up ground before the final vote by comparing his rival to the socialist Venezuelan leader, Nicolas Maduro.
He warned that a victory for the FMLN party would spell financial ruin for the Central American nation.
Mr Sanchez Ceren campaigned as a moderate despite his past as an active guerrilla leader during El Salvador's civil war (1980-92).
But the acrimonious nature of the fight over the election results suggests the rift between the two main parties remains extremely wide, observers say.
On Monday night, the Supreme Electoral Tribunal said there had been "no basis" for the appeal by Arena, which had alleged that some of the votes for the FMLN had been counted twice.
Tribunal President Eugenio Chicas said Mr Sanchez Ceren and Oscar Ortiz would be handed their credentials as president-elect and vice president-elect later on Tuesday.
However, Arena still has a Supreme Court appeal pending, seeking a vote-by-vote recount.