Profile: Luis Guillermo Solis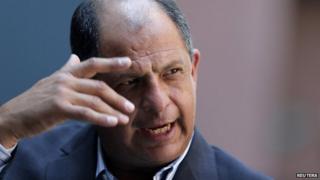 Luis Guillermo Solis Rivera has won the presidential elections in Costa Rica. Virtually unknown just a few months before the vote, he was so far ahead in opinion polls that the governing party candidate decided to drop out ahead of the run-off.
Mr Solis - the candidate of the centre-left Citizen Action Party (PAC) - surprised everyone by taking 31% of the vote in the first round of the election in a field of 13 candidates.
Buoyed by his fierce attacks on President Laura Chinchilla's scandal-ridden PLN government, Mr Solis took a dramatic lead in opinion polls which prompted the PLN's candidate Johnny Araya to stop campaigning in March.
Despite a lack of real competition, the history professor, former diplomat and father of six campaigned up to the last minute, in an attempt to secure a high turnout.
"There is no greater enemy to Costa Rican democracy than absenteeism," Mr Solis, 55, told supporters at one campaign rally.
"It's the worst thing that could happen to a president in this country with the oldest democracy in Latin America, that the president does not have a popular mandate."
His election campaign promised "work, progress and happiness", and he pledged not to raise taxes until he has restored what he says is Costa Ricans' lost faith in government.
Peace role
Mr Solis was himself once a member of the governing party, and has held several cabinet posts in PLN administrations, before switching sides nine years ago.
He left the PLN in 2005 after criticising "irregularities" in the party's internal elections, and joined the rival Citizen Action Party (PAC) soon afterwards.
Previously, he was working as a foreign ministry official from 1986 to 1990, and played a key role in drafting a Central American peace plan brokered by Costa Rica's then-President Oscar Arias Sanchez, according to his website.
Aimed at ridding the region of its frequent civil wars, the signing of the Esquipulas II Accords in 1987 by Costa Rica, El Salvador, Guatemala, Honduras and Nicaragua won President Arias the Nobel Peace Prize.
Since 1984, Mr Solis has also served in Costa Rican delegations to the United Nations, the Organization of American States, the European Union and several other international bodies, according to his biography on the Election Tribunal website.
The son of the owner of a small shoemaking business, Mr Solis has spent more than 30 years teaching and is also a visiting professor at the US universities of Michigan and Florida.
BBC Monitoring reports and analyses news from TV, radio, web and print media around the world. For more reports from BBC Monitoring, click here. You can follow BBC Monitoring on Twitter and Facebook.