Brazil 'rescues' cruise workers from 'slave-like conditions'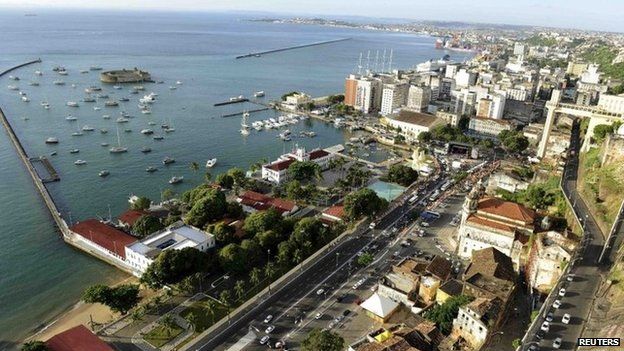 Brazilian police say they have rescued 11 crew members working in "slave-like conditions" on an Italian cruise ship.
The operation was carried out the north-eastern city of Salvador, where the MSC Magnifica had docked for the day with more than 3,000 passengers.
Brazilian officials say the 11 crew members were forced to work up to 16 hours a day. Some were alleged to have been victims of sexual harassment.
Italian cruise operator MSC Crociere has adamantly rejected the allegations.
"MSC Crociere is in full compliance with national and international labour regulations and is ready to co-operate with the authorities," it said in a statement.
The company said it had not received "any evidence or legal notification" from the Brazilian labour ministry.
Brazilian Federal Police officers boarded the ship on Tuesday, before it departed for the city of Recife, on its way back to Europe. But the operation has only now been made public.
It comes at the end of a month-long investigation, following a tip-off from crew members on the MSC Magnifica.
The labour ministry identified 13 staff who had allegedly been submitted to slave-like conditions.
Two of them refused to leave the vessel and decided to carry on working, while the other 11 were taken to a hotel in Salvador.
Their nationalities have not been released.
"The fact that they had signed a contract, even an international contract, does not mean that the basic human rights should not be respected," Labour Ministry director Alexandre Lyra told Folha de Sao Paulo.
Brazil has seen a boom in the cruise tourism industry over the past decade.
The main European and American cruise operators take many of their ships to South America, operating at full capacity in the busy summer period, between December and March.
MSC Crociere says its ships alone employ 4,181 crew members in Brazilian waters. More than 1,200 of them are Brazilian nationals.