Mexican vigilantes protest against plans to disarm them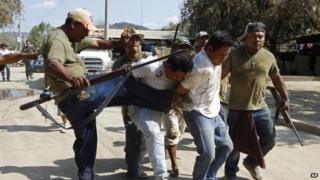 Vigilante groups in Mexico have protested against moves by the security forces to disarm them.
The "self-defence" groups emerged last year in the western state of Michoacan to protect residents from local drug cartels such as the Knights Templar.
"If they disarm us, the Knights Templar will come and kill us," said vigilante spokesman Jose Manuel Mireles.
They set up barricades on a number of roads to prevent the security forces from moving into the towns they hold.
The "self-defence" groups held demonstrations in at least 15 communities.
Mr Mireles said he and his men would continue moving into communities to "clean" them of cartel members.
The army said it had successfully disarmed vigilante groups in at least nine communities.
Cartel threat
The government originally tolerated the groups, inviting them to join a Rural Defence Corps under the command of the security forces.
But last week, the authorities said that the time had come for the vigilantes to lay down arms and warned that anyone found carrying weapons illegally after the disarmament would be detained.
They argued that following the arrest by the security forces of the main leaders of the Knights Templar, the vigilantes had no further role to play.
Interior Minister Miguel Angel Osorio Chong said the government had "delivered results and now the other side must fulfil its word".
But arguing that not all of the towns in the area had yet been secured, Mr Mireles said the government "shouldn't leave things half done, especially as the lives of locals and their families are at stake".
The heavily armed vigilantes have not only been clashing with members of the Knights Templar over the past months, but also with the security forces and each other.
One of the founders of the vigilante movement, Hipolito Mora, was detained last month on suspicion of killing two fellow vigilantes.
Three of the four main leaders of the Knights Templar, a pseudo-religious criminal cartel, have been captured or killed by the security forces in recent weeks.
However, their top leader, former school teacher Servando "La Tuta" Gomez, remains at large.