Venezuela opposition set terms for talks with president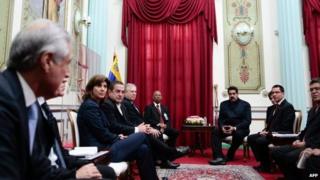 A coalition of Venezuelan opposition parties says it is willing to enter into talks with the government as long as certain conditions are met.
The meeting was proposed by foreign ministers of the Unasur regional group to put an end to two months of anti-government protests.
Venezuelan President Nicolas Maduro had earlier agreed to take part.
It is not yet clear though whether his government will agree to the terms demanded by the opposition.
'True dialogue'
In a letter addressed to the Unasur delegation, the umbrella opposition group Table for Democratic Unity (MUD) said it was "willing to hold a true dialogue, with a clear agenda, equal conditions [for both sides] and the first meeting of which will be transmitted live on national radio and television channels".
MUD Executive Secretary Ramon Guillermo Aveledo said the opposition said the presence of an independent arbiter would also be "indispensable to guarantee, facilitate and, if necessary, mediate".
He said that third party would have to be agreed on by and be acceptable to the government and the opposition.
Mr Aveledo also welcomed offers made last month by Unasur and the Vatican to act as observers.
But he complained that the government had not yet extended an official invitation to a Vatican representative, whose presence he said would be "essential".
Earlier, President Maduro said he "accepted" the Unasur proposal for dialogue and pointed out that he had been calling for such talks for the past eight weeks.
On 26 February, the opposition refused to attend a "National Peace Conference" convened by President Maduro saying that the government was acting in bad faith.
International mediation
The Unasur ministers are in the capital, Caracas, for talks aimed at trying to end violent protests which have left 39 people dead over the past two months.
The protests started in early February with demonstrators demanding an end to Venezuela's high crime rate, its growing inflation and shortages of certain food staples.
They have since spiralled into a wide opposition movement and many of the protesters say they will not stop until the government of President Maduro resigns.
It is the second visit by the Unasur delegation to Venezuela in two weeks.
After meeting the foreign ministers of Argentina, Brazil, Bolivia, Colombia, Chile, Ecuador, Surinam and Uruguay, President Maduro said he was optimistic that talks with the opposition could go ahead on Tuesday.
But the government has not yet made a statement following the conditions set forth by the opposition.