Argentina sentences 10 in Marita Veron sex trafficking case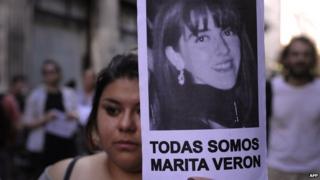 A court in Argentina has sentenced 10 people to up to 22 years in jail for the kidnapping and sexual exploitation of a young woman, Marita Veron.
The defendants were all cleared of abducting her in 2012, but a new trial was ordered after her mother, Susana Trimarco, appealed.
She said "justice has been done".
The case shone a light on sex trafficking in Argentina after Ms Trimarco rescued many women in the search for her daughter.
Ms Veron disappeared from the city of San Miguel de Tucuman when she was 23 years old, but has never been found.
Sex workers reported spotting her in several locations in the country, where they said she was forced to work as a prostitute.
The court in the north-western province of Tucuman handed down sentences of 22 years in prison to two brothers, Jose and Gonzalo Gomez.
Seven other defendants received sentences of at least 10 years; a 10th accused was given 15 days of house arrest.
'Keep fighting'
"I never found Marita, but justice has been done," Ms Trimarco said after the sentencing.
"I do not mean with this that I'm not going to keep fighting.
"We will continue until the day we will know what they did with Marita," the Argentine newspaper, La Nacion, quoted her as saying.
Last December, a court in Tucuman overturned an earlier ruling which had cleared the defendants.
Their acquittal in December 2012 caused outrage in Argentina, with thousands taking to the streets in Tucuman and the Argentine capital, Buenos Aires, in protest.
Ms Veron had been on her way to a local hospital for a medical appointment when she was abducted.
As her mother launched a campaign to find her, the case soon became a symbol of the fight against human trafficking in Argentina.
The information she gathered led to police raids in which dozens of sexually exploited women were rescued.
Ms Trimarco's campaign also helped bring about new laws against human trafficking in Argentina.
In 2007, she set up a foundation, the Fundacion Maria de los Angeles, named after her missing daughter, which has helped rescue victims of sexual exploitation and human trafficking.
She was also among those given the first US Secretary of State International Women of Courage award in 2007 by Condoleezza Rice, for her efforts against human trafficking.