Trinidad and Tobago ex-leader Arthur Robinson dies at 87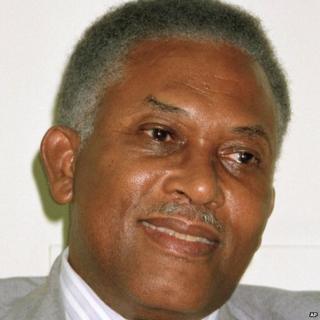 Arthur Robinson, the former president and prime minister of Trinidad and Tobago, has died at the age of 87.
Mr Robinson is credited with helping to establish the International Criminal Court (ICC) in The Hague.
As prime minister (1986-1991), he was held hostage and shot in the leg during a failed coup attempt in 1990.
He was also beaten by his Islamist captors for ordering the security forces to attack them "with full force" instead of backing down.
Twenty-four people died during the coup attempt - carried out by a little-known radical Muslim group, the Jamaat Al Muslimeen - the majority of them during looting that erupted in the Trinidadian capital, Port-of-Spain.
Arthur Robinson is widely recognised as coming from a generation of West Indian intellectuals who were to change the course of the region's history.
'Tragic loss'
Prime Minister Kamla Persad-Bissessar said Mr Robinson had been "one of our nation's outstanding sons".
"Mr Robinson's passing is a deep and tragic loss for our country, but the legacy he leaves behind shall surely live on to inspire today's and tomorrow's generations," Ms Persad-Bissessar said in a statement.
Opposition leader Keith Rowley said Mr Robinson was "resolute in his role as leader".
"I acknowledge his distinguished contribution to this country's development and join the rest of the nation in mourning his loss," he was quoted as saying by the Trinidad Express newspaper.
Mr Robinson first proposed the idea of establishing the ICC during a speech at the United Nations General Assembly in New York in 1989.
He suggested the court should have "jurisdiction to prosecute and punish individuals and entities who engage in (...) the illicit trafficking in narcotic drugs across borders".
The ICC was established in 2002 to prosecute and bring to justice those responsible for the worst crimes - genocide, crimes against humanity and war crimes - committed anywhere in the world.
Mr Robinson also served in the largely ceremonial role of president of the twin-island Caribbean country for six years, until March 2003.
He was born in a village in Tobago in 1926 and went on to become an Oxford University graduate and a qualified lawyer.
He first entered politics in 1958 as a member of parliament, and helped found the People's National Movement party which led Trinidad and Tobago to independence from Britain in 1962.