Clashes as police evict squatters in Rio de Janeiro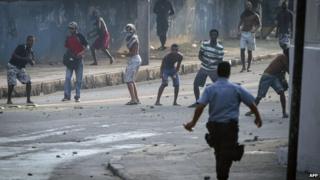 A huge police operation to evict hundreds of families from abandoned buildings in Rio de Janeiro has ended with violent clashes and some injuries.
More than 1,500 police officers had arrived at dawn to evict nearly 5,000 people from the site, belonging to a telecommunication company.
Some families left peacefully, but clashes began when others resisted.
Groups of squatters threw rocks at police who responded with tear gas and stun grenades.
Hundreds of children were among the crowds.
Vehicles were set on fire and supermarkets were looted.
'We're homeless'
Several people were injured, including children and police officers.
Cranes and tractors demolished wooden huts built around the buildings, many still full of the belongings residents had had no time to pack.
"They (the police) came here breaking everything, removing the people from there," said Sandro Sousa, a squatter.
"We lost our home and we are now trying to have a house," he told the Associated Press news agency.
"I am crying because I have nowhere to go to. I have no place to live," said another, Drielo Almeida.
'Help offered'
But the Rio municipal authorities insisted that help had been offered to the homeless families.
"Teams of social workers were on site, but only 177 squatters accepted the support," the local government was quoted as saying by the Globo news portal.
"The city provided trucks, buses and machinery so that the work of clearing the ground and evicting the people could happen in an orderly manner," it said in a statement.
The police said the operation went as planned and had followed standard procedures.
The families began occupying the abandoned plot in northern Rio 10 days ago, moving in from the city's favelas or shanty towns.
The site was already being called Rio's newest favela.
The BBC's Julia Carneiro in the Brazilian city says pictures on local media showed how fast work was progressing.
"The area was quickly divided into tiny plots, shacks were being raised and some residents already had illegal power connections," she says.
Owned by a telecommunications company, the buildings are not far from one of the venues for the 2016 Olympic Games, which will take place in Rio.
Are you in the area? What is your reaction to this? If you would be happy to speak with the BBC please email haveyoursay@bbc.co.uk using subject Rio squatters.