Mexico bus crash kills 36 people in Veracruz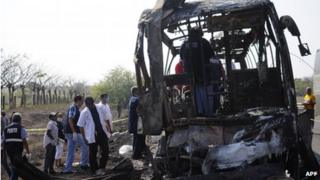 The authorities in Mexico say 36 people have been killed in a bus crash in the south-east of the country.
The state government of Veracruz said four people survived after the bus burst into flames.
It slammed into the back of a broken-down lorry that was parked on a main road, just after midnight local time.
A statement from the state civil defence agency said the victims were business people from the region who were en route to Mexico City.
They were travelling from Villahermosa in Tabasco state when their bus hit the lorry, which the authorities said was "badly parked on the highway".
"Apart from being hit, the bus also caught fire, making the job of identifying bodies difficult," Veracruz Governor Javier Duarte told local television.
He visited the survivors at a local hospital in Veracruz.
The President of Mexico, Enrique Pena Nieto, sent a message of condolences to the families of those who died.
Deadly road accidents are frequent in Mexico.