Third Nicaraguan tremor raises fears of quake to come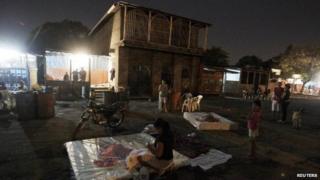 A 5.1-magnitude earthquake shook Nicaragua on Sunday night, the third quake to hit the Central American nation within a week.
Seven homes collapsed but there have so far been no reports of any casualties.
Officials said the quakes could be an indication that the geological fault line which runs underneath the capital, Managua, has been re-activated.
Movement in the Estadia fault caused the 1972 quake which killed at least 5,000 people and devastated Managua.
Nicaragua was struck by another two earthquakes on Thursday and Friday last week, raising fears a bigger quake may hit "within days".
Quick response
The US Geological Survey (USGS) said Sunday's quake struck at 23:07 local time (05:07 GMT) some 6km (4 miles) northwest of Managua.
The USGS said it had a magnitude of 5.1, but local seismologists put its magnitude at 5.6.
President Daniel Ortega said the quick response of residents, who fled their homes when they felt the tremor, prevented any deaths.
The president said there had been reports of injuries, but did not give further details.
Angelica Munoz of Ineter, the Nicaraguan state body which monitors tremors, said there had been nine aftershocks following Sunday's quake.
She said one of the aftershocks had originated in the fault line which caused the 1972 earthquake, in which large parts of Managua's city centre were destroyed and two thirds of its one million residents displaced.