Venezuelan Globovision journalist Nairobi Pinto freed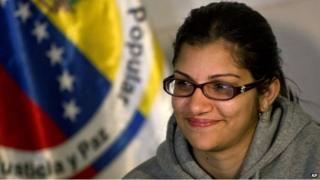 Venezuelan TV journalist Nairobi Pinto has been released, eight days after she was kidnapped.
Ms Pinto, the assignment editor of the private news network Globovision, was freed in the city of Cua, near the Venezuelan capital, Caracas.
She had been seized by gunmen outside her home in Caracas.
Kidnappings, especially for ransom, are common in Venezuela, and a number of diplomats, businessmen and athletes have been abducted in recent years.
While the majority of those kidnapped for ransom are released soon after being taken, some victims have been killed or died from injuries sustained during their ordeal.
"The journalist Nairobi Pinto is already with us, alive and well," a police chief, Douglas Rico, wrote on Twitter.
String of abductions
Hours later, she appeared and briefly spoke at a news conference in the Venezuelan capital.
"They (the captors) treated me well. They never touched me, never mistreated me. I ate all three meals,'' she said, sitting next to Venezuelan Interior Minister Rodriguez Torres.
For his part, he said he believed she was released thanks to a large police operation of "almost 3,000 officers" to try to find her.
"We think that the police pressure played an important role (in her liberation)," he said.
It remains unclear, however, why Ms Pinto was abducted and whether a ransom was paid.
In February, former Venezuelan boxing world champion Antonio Cermeno was killed after being kidnapped in Caracas.
In 2012, the trade attache at the Costa Rican embassy in Caracas was abducted and later released. It is not clear if a ransom demand was met.
The Mexican ambassador Carlos Pujalte and his wife were also briefly kidnapped in Caracas in 2012 before being freed.
And in 2011, the Chilean consul in Caracas was abducted, beaten and shot in the leg before being released.
In the same year, baseball player Wilson Ramos was also kidnapped from his family home in the city of Valencia before being rescued by the security forces.