Chile promises to rebuild fire-hit Valparaiso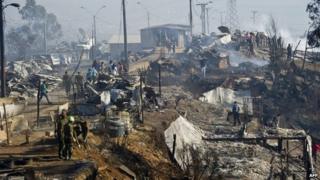 President Michelle Bachelet of Chile has promised her government will rebuild the areas destroyed by a deadly fire in the port city of Valparaiso.
The blaze has killed at least 15 people, left thousands more homeless and forced mass evacuations.
Ms Bachelet said they were putting "all available resources at the disposal to deal with this tragedy".
Earlier, Chilean forestry officials said it could take more than 20 days to fully extinguish the remaining fires.
Chile's forestry agency, Conaf, said firefighters were still battling residual wildfires, but it stressed that the situation was not "out of control".
The forest fire started on Saturday in the hills surrounding Valparaiso, 110km (70 miles) west of the capital Santiago.
Two phases
President Bachelet said she wanted to express her and her government's solidarity "to the people and family who've been affected".
"We are putting all available resources at the disposal to deal with this tragedy, beginning with the evacuation, and then, in a second phase, the reconstruction (of the city)," she announced, following a government meeting in Santiago.
On Sunday, Ms Bachelet declared the areas destroyed by the fire a disaster zone.
More than 10,000 residents in Valparaiso have been evacuated since Saturday, and some 2,000 homes have been destroyed.
About 1,300 firefighters are battling the flames, using helicopters and planes to dump water on remaining hotspots.
'Help needed'
On Monday, a forecast of cooler temperatures and higher humidity was expected to slow the fire's advance.
Residents and volunteers worked to clear the debris left behind.
"The only thing we need is help, please, nothing else, because there's nothing left," a resident, Ana Maria Espinoza, told the Associated Press news agency.
The Chilean Red Cross has appealed for donations, such as food and other basic supplies, to help those who were left homeless.
Soldiers and volunteers have been helping to distribute aid, which has been flowing from all over Chile.
The government said it would send 500 million Chilean pesos ($0.9m, £0.5m) to help the clean-up effort in Valparaiso, but promised more help would be given.
This is the second emergency that President Bachelet has had to face in the first month of her second term in office, after an 8.2 magnitude earthquake hit the north of the country on 1 April.