Campos-Silva ticket confirmed in Brazil 2014 election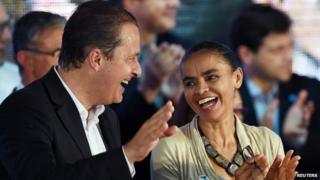 A former Brazilian state governor, Eduardo Campos, has confirmed he will run in October's presidential election with the internationally-renowned environmental campaigner, Marina Silva, as his vice-presidential candidate.
They will represent the Brazilian Socialist Party (PSB).
Ms Silva ran for president in 2010 but was knocked out in the first round.
With the alliance, Mr Campos hopes to capitalise on the nearly 20m votes cast for Ms Silva in the last election.
The two opposition politicians hinted last October they would run together, after Ms Silva joined the PSB.
They have only now confirmed who would head the ticket, following much speculation.
A recent survey by Datafolha, a Brazilian polling firm, suggested Mr Campos would lose in the first round to President Dilma Rousseff, but Ms Silva would force the election to a second round if she were running for the top job.
President Rousseff is seeking re-election with the Workers' Party (PT) in less than six months' time.
Former PT supporters
Ms Silva used to be a member of the PT during the government of her predecessor, Luiz Inacio Lula da Silva, but has since become a stern critic.
She is backed by an informal political movement known as the Sustainability Network.
Mr Campos, the former governor of Pernambuco state, in north-eastern Brazil, was also a supporter of Ms Rousseff at one stage and a former minister in the Lula administration.
Ms Silva served as an environment minister for five years, before stepping down in 2008 after disagreements with President Lula's government over its environment policy.
The announcement still has to be formally endorsed at a national PSB convention in June.
The first round of the presidential election will take place on 5 October of this year and will go to a second round later that month if no candidate gets more than 50% of the votes.
Mr Campos and Ms Rousseff will also compete for the top job against Aecio Neves, a current senator who will represent the Brazilian Social Democracy Party (PSDB).