Mexico 'cartel city' mayor arrested over extortion claims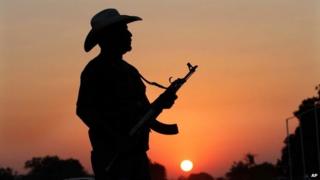 The mayor of the Mexican city of Apatzingan, a stronghold of the Knights Templar drug cartel, has been arrested on suspicion of extorting money on behalf of the cartel.
Prosecutors say Uriel Chavez pressured city councillors to hand over $1,500 (£900) of their salaries to the Knights Templar.
Mr Chavez denies the allegations.
In February, armed vigilante groups marched into the city in an attempt to "clear" it of the cartel.
Extortion
The prosecutor's office said they had received a number of complaints against Mr Chavez by local councillors alleging he had taken them to a rural area.
There, armed men claiming to belong to the Knights Templar demanded money for weapons, the councillors said.
Last year, farmers tired of being extorted by cartel members joined "self-defence" groups in the western state of Michoacan.
They took control of a number of towns earlier this year, promising to rid them of the influence of the Knights Templar, a criminal organisation engaged in extortion, kidnapping for ransom, and the illegal methamphetamine trade.
The government originally tolerated the groups, inviting them to join a Rural Defence Corps under the command of the security forces.
Few took up the offer, so on Tuesday the interior minister set the vigilantes a deadline of 10 May to register their guns and to decide whether to join the rural corps or face arrest for illegally carrying weapons.
The government argues that the vigilante groups are no longer needed because the security forces have captured or killed three of the four main leaders of the Knights Templar.
However, their top leader, former school teacher Servando "La Tuta" Gomez, remains at large.