Tributes pour in for Colombian author Gabriel Garcia Marquez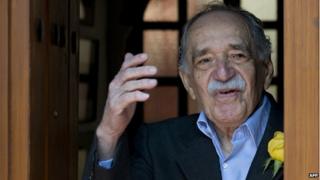 Presidents and fellow writers have been paying tribute to Nobel prize-winning Colombian author Gabriel Garcia Marquez who has died in Mexico aged 87.
The author was considered one of the greatest Spanish-language writers, best known for his masterpiece of magical realism, One Hundred Years of Solitude.
Colombian President Juan Manuel Santos and US President Barack Obama were those among praising his legacy.
Mr Obama said the world had "lost one of its greatest visionary writers".
While, Mr Santos took to Twitter to pay tribute to Garcia Marquez.
"A thousand years of solitude and sadness because of the death of the greatest Colombian of all time! Such giants never die," he wrote.
Garcia Marquez had been ill and had made few public appearances recently. He was released from hospital in Mexico City last week following a lung and urinary tract infection, but was said to be "very fragile" because of his age.
He achieved fame for pioneering magical realism, a unique blending of the marvellous and the mundane in a way that made the extraordinary seem routine.
One Hundred Years of Solitude sold more than 30 million copies and he was awarded the Nobel Prize for Literature in 1982.
"A great artist is gone, but his grand art remains with us. Most authors are only shadows, but Gabriel Garcia Marquez belonged to those who cast a shadow, and he will continue to do so long after his death," said Peter Englund, permanent secretary of the Nobel Prize-awarding Swedish Academy.
With his books, Garcia Marquez brought Latin America's charm and teeming contradictions to life in the minds of millions of people.
'Greatest Colombian'
The news of his death was announced by a spokeswoman for the family, Fernanda Familiar.
"Gabriel Garcia Marquez has died," she said.
"[His wife] Mercedes and her sons, Rodrigo and Gonzalo, have authorised me to provide the information. Such deep sadness," she added.
The family announced Garcia Marquez would be cremated in a private ceremony, and that a public memorial service would take place in Mexico City next Monday, at the Palacio de Bellas Artes cultural centre.
Former US President Bill Clinton also said: "I was always amazed by his unique gifts of imagination, clarity of thought, and emotional honesty. I was honoured to be his friend and to know his great heart and brilliant mind for more than 20 years."
Peruvian Nobel prize-winning author Mario Vargas Llosa, with whom Garcia Marquez had a long-running feud which resulted in a street fight in 1976, called him a "great writer".
"His works gave literature great reach and prestige. His novels will survive and will continue to find new readers everywhere," he told Peruvian media.
Chilean author Isabel Allende said: "I owe him the impulse and the freedom to plunge into literature. In his books I found my own family, my country, the people I have known all my life, the colour, the rhythm, and the abundance of my continent."
The BBC's Will Grant in Mexico City says his loss will be particularly felt in his native Colombia but in Mexico too, which for more than 30 years became his adopted home.
Mexican President Enrique Pena Nieto tweeted: "On behalf of Mexico, I express sorrow over the death of one of the greatest writers of our time."
Colombian pop star Shakira said "Gabo", as the author was affectionately known, would "always be in my heart".
"Your life, dear Gabo, will be remembered by all of us as a unique and singular gift," the singer said.
Controversy
Gabriel Garcia Marquez's other works include Love in the Time of Cholera, Chronicle of a Death Foretold and The General in His Labyrinth.
The novelist was also an accomplished journalist whose reporting shone in his work News of a Kidnapping.
The non-fiction book recounted high-profile abductions by the Medellin drug cartel run by Pablo Escobar, a notorious Colombian drug lord who died in 1993.
The novelist was at times a political figure too.
His friendship with the former Cuban President Fidel Castro sparked some controversy among literary and political circles in Latin America.
But he insisted their friendship was based on books.
"Fidel is a very cultured man," he said in an interview. "When we're together we talk about literature."
Cuban author and essayist Miguel Barnet said: "Cuba suffers from this death, as do all readers of a writer who is an icon."