Colombia president reinstates ousted Bogota mayor Petro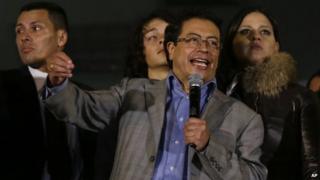 Colombian President Juan Manuel Santos has reinstated the ousted Bogota mayor, Gustavo Petro, to his former office.
The decision by the president comes just a day after a court ordered him to reappoint Mr Petro within 48 hours.
The mayor was sacked by Colombia's inspector general in December over the alleged mismanagement of the capital's rubbish collection service.
Mr Petro, a former left-wing rebel, had argued all along that his removal had been politically motivated.
President Santos said that he was simply complying with Tuesday's court order.
"I've signed the decree reinstating Mayor Petro. My obligation, as president of the republic, is to follow the law and what the justices decide," he said.
The tribunal ruled that President Santos had acted wrongly when he had confirmed the removal from office of the left-wing mayor last month.
The court said the president should have heeded an 18 March ruling by the Inter-American Commission on Human Rights that said that Mr Petro's rights had been violated.
Under the Colombian constitution, the inspector general has the power to remove officials from office, but such action is normally only taken in major corruption scandals.
Mr Petro was accused of violating the principles of the free market by trying to have the city take over waste management services from private companies.
But Mr Petro's supporters argued his removal was totally out of proportion with the allegations made against him.
Mr Petro welcomed the president's announcement. He said he believed Mr Santos had been acting on wrong information when he sacked him and that his change of heart would be "lasting".