Rio police in fresh clashes with residents after burial of dancer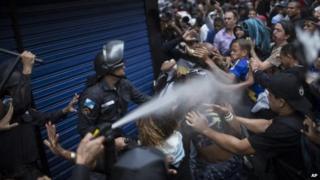 Brazilian police have clashed with residents of a Rio de Janeiro shantytown that was hit by deadly protests on Tuesday.
Police used tear gas and rubber bullets to disperse dozens of angry protesters from the Pavao-Pavaozinho favela.
The protesters were returning from the burial of a man whose death - allegedly at the hands of police - triggered the earlier clashes.
Authorities say they will investigate the death of TV dancer Douglas Pereira.
Rio's public safety director, Jose Maria Beltrame, said they would proceed "with the utmost rigour and transparency".
The latest clashes came weeks before Brazil is to host the football World Cup.
On Thursday, cars were torched and hundreds of residents were unable to return to their homes as protesters blocked roads with burning barricades.
Police used pepper spray and tear gas to disperse stone-throwing protesters. One person was detained, according to Brazilian G1 news portal.
Authorities temporarily closed the main avenue of the nearby Copacabana district, which is famous for its sandy beach.
'Everybody loved him'
The residents had been walking home from Mr Pereira's funeral.
At the burial, his mother, Maria de Fatima Silva, told the BBC's Julia Carneiro that she would seek help from the human rights group Amnesty International.
"This cannot go unpunished, he can't become just a statistic," she said.
"This story about him being a criminal is just not true. He was not a delinquent," she told our correspondent.
According to some residents, Mr Pereira had been trying to flee from a shoot-out between police and drug dealers and had climbed over a wall to hide.
They said he had then been found by police, who, believing he was a trafficker, had beaten him to death.
One person died in Tuesday's clashes.
Swift action
Officials said on Wednesday that the dancer had been killed by a bullet, contradicting an earlier version that stated he had died from a fall.
The Rio authorities have promised that, if there were any indications that police were linked to Mr Pereira's death, swift action would be taken.
Pavao-Pavaozinho is one of the poor districts of Rio that has been part of a police "pacification" programme, in which the security forces move into an area in an effort to wrest control from the drug traffickers who run it.
It is an attempt by the city authorities to drive the armed gangs away from communities and restore police authority ahead of the World Cup in June and July.
But the programme is controversial as Brazilian police have been accused of using excessive force, at times killing residents not connected to any gangs.
Amnesty International says some 2,000 people die every year in Brazil as a result of police violence.