El Salvador corruption: 'New evidence' against ex-president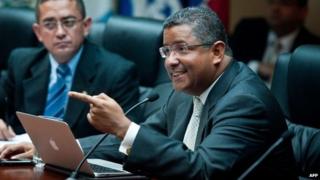 El Salvador President Mauricio Funes has said there is new incriminating evidence against former President Francisco Flores, who is facing corruption allegations.
Mr Funes said prosecutors in Costa Rica found bank accounts in the name of Mr Flores.
The former president had denied under oath having any accounts abroad.
The government accuses Mr Flores, who governed between 1999 and 2004, of misusing funds donated by Taiwan.
Mr Flores told a congressional panel in January that he had received cheques worth $10m (£6.5m) from Taiwan during the last two years of his presidency.
But Mr Flores denied the funds were for his personal use. He said Taiwan donated the money to El Salvador.
"I would like to say that I have never deposited a cheque from Taiwan's government in any account; that is key for me, to make clear that I have never deposited a cheque from Taiwan's government in any account," Mr Flores told the congressional panel set up to trace the money.
But Mr Funes said that Costa Rica "will send the documents of the Flores case" this week.
"According to Costa Rican Attorney General [Jorge Chavarria] there are bank accounts in the name of President Flores in Costa Rica," said Mr Funes in his radio programme, Conversando con el Presidente.
'Aid money'
Mr Flores, from the conservative Arena party, said he had asked Taiwan for donations on three occasions.
The first time, he said, it was to help reconstruction efforts after two devastating earthquakes killed about 1,500 people and left more than 200,000 homeless in El Salvador in 2001.
Another time he had asked Taiwan for help in combating drug trafficking, and a third donation was to fight crime and gangs, he explained.
He said that El Salvador enjoyed "a privileged relationship" with Taiwan because it backed the Asian country's membership request to the United Nations.
Another Central American leader is facing an inquiry into his dealings with Taiwan.
Former Guatemalan President Alfonso Portillo (2000-2004) told a court in New York last month that he accepted $2.5m (£1.5m) in bribes from Taiwan.
He pleaded guilty to one count of conspiracy to launder money and agreed not to appeal against any prison sentence between four and six years.